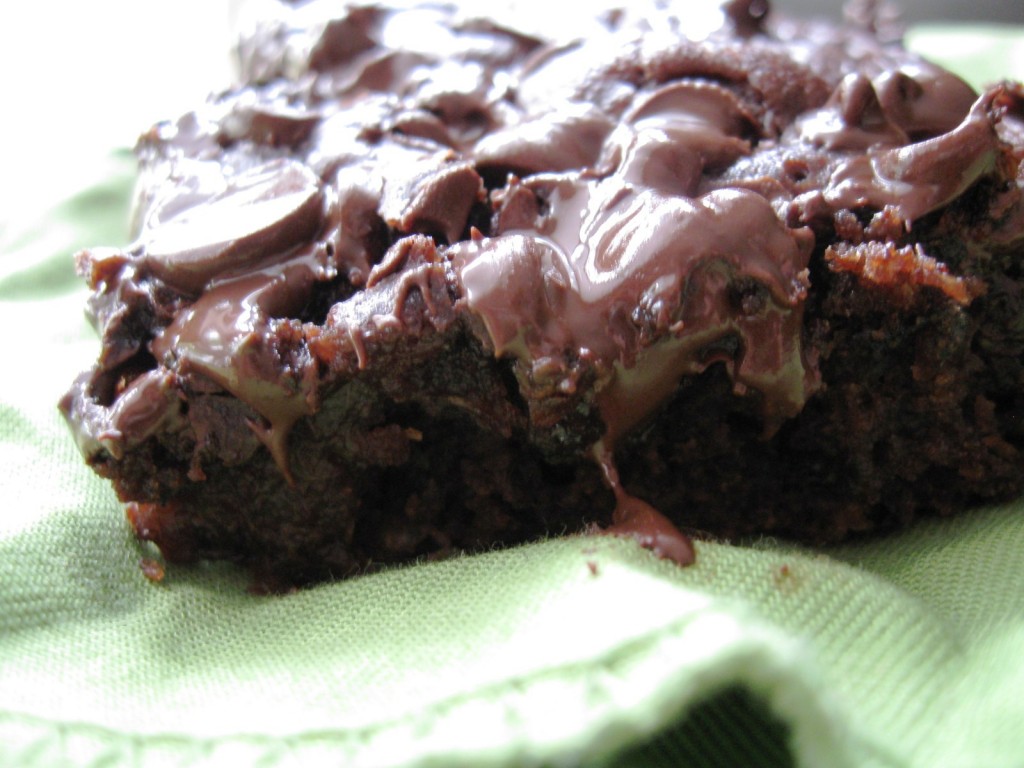 It's that time of year when zucchini gets put into everything. Simply in Season does not disappoint in that department. Speaking of which, I think I'll still be able to make my end of August deadline. There will be a few marathon cooking sessions the next few weekends, but here's hopin'!
FOR PRINTABLE VERSION CLICK HERE: Zucchini Brownies
1 cup flour
3/4 cup whole wheat flour
1/3 cup baking cocoa
1/2 tsp salt
1/2 tsp baking soda
2-3 cups zucchini (shredded)
1 egg
3/4 cup sugar
3/4 cup brown sugar
1/2 cup plain yogurt
1/2 cup oil
1 tsp vanilla
3/4 cup semisweet chocolate chips
1. Combine flours, cocoa, baking soda, and salt in a large bowl. Stir in zucchini.
2. In a separate bowl, combine egg, sugars, yogurt, oil, and vanilla with a fork. Stir in to zucchini mixture.
3. Sprinkle chocolate chips on top and bake in a 9×13 pan in a preheated 350F oven until a toothpick comes out clean (35-40 minutes).
Servings: 20
The Verdict: These are super rich, extremely chocolatey. The zucchini just melts right into the rest of the brownie.
Nutrition Facts
Serving size: 1/20 of a recipe (2.3 ounces).
Percent daily values based on the Reference Daily Intake (RDI) for a 2000 calorie diet.
Nutrition information calculated from recipe ingredients.
Amount Per Serving
Calories 191.9
Calories From Fat (36%) 68.7
% Daily Value
Total Fat 7.97g 12%
Saturated Fat 2.14g 11%
Cholesterol 10.94mg 4%
Sodium 71.12mg 3%
Potassium 103.34mg 3%
Total Carbohydrates 29.71g 10%
Fiber 1.31g 5%
Sugar 16.3g
Protein 2.51g 5%