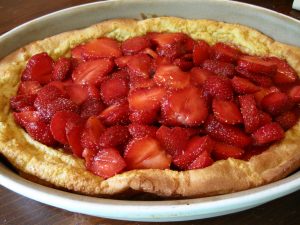 This took about a quart of strawberries, so between this and the strawberry salad, plus several that I used for quality control (you MUST taste your produce to make sure it's good, after all) I used up the two quarts from the Farmer's Market. Now I need to find some more!
FOR PRINTABLE VERSION CLICK HERE: Strawberry Brunch Souffle
Source: Simply in Season
3 cups strawberries, sliced
2 Tbs sugar
2 Tbs butter
3 eggs
1 1/2 cups milk
3/4 cup flour
1/3 cup sugar
1/4 tsp salt
1/4 tsp vanilla
1. Sprinkle sugar on fruit, toss gently and set aside.
2. While oven is preheating to 375F, put butter in the bottom of a pie pan in the oven to melt. Swirl to coat bottom and sides.
3. Beat together eggs and milk using electric beater or mixer.
4. Add remaining ingredients and beat until smooth. Pour batter into pie pan and bake until edges are golden brown and center is set, 25-30 minutes.
5. Spoon berries on top and serve immediately, cut into wedges. Pass sour cream or plain yogurt and brown sugar to sprinkle on top. (Optional. DH and I ate it without either and it was super delicious!)
Servings: 4
The Verdict: Oh my, this was just heavenly. I made it for Sunday morning breakfast for DH and me. The eggy bottom and sweet strawberries were sooo good. It almost felt more like a dessert. Because the strawberries were so sweet (probably because they are from Michigan, hoo yeah!) that I could have cut way down on the sugar.
Nutrition Facts
Serving size: 1/4 of a recipe (10.5 ounces).
Percent daily values based on the Reference Daily Intake (RDI) for a 2000 calorie diet.
Nutrition information calculated by Living Cookbook Recipe Management Software.
Amount Per Serving
Calories 361.71
Calories From Fat (29%) 105.3
% Daily Value
Total Fat 11.86g 18%
Saturated Fat 6.01g 30%
Cholesterol 181.21mg 60%
Sodium 237.77mg 10%
Potassium 389.58mg 11%
Total Carbohydrates 54.21g 18%
Fiber 2.91g 12%
Sugar 33.54g
Protein 10.98g 22%
This post linked to Tuesday Twister