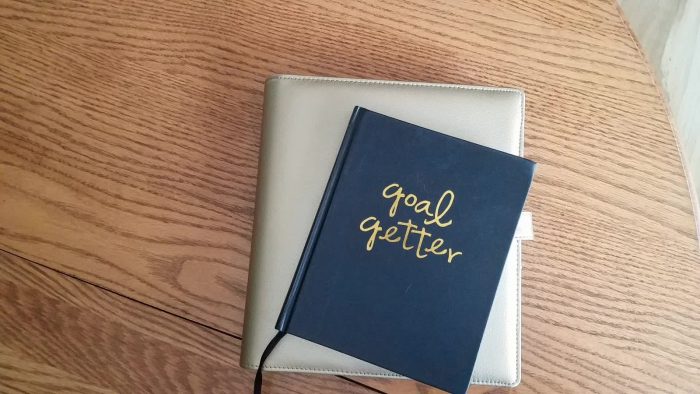 I can't believe 2017 is finally here! I have the day off from my "real job" so I am spending today going through my planning workbooks one last time. In today's post I'm going to finish the New Year New You Challenge by sharing my overall goals, review my training in the weekly wrap section, and then talk a bit about the meal planning challenge I'm doing.
Goals for 2017
Today's final prompt in the New Year New You challenge was to create specific goals for each of the five pillars. Here is what I came up with. I will be working hard to implement these through the planning worksheets in the workbooks that I mentioned. Who knew that planning was so much work? Haha.
Relational
I feel like all Troy and I do is run and go out for beer. So, we have agreed that once a month we will do some new date night that is not too expensive and does not involve running or beer.
Another goal I have is to spend more time with strong women that I can learn from. I want to do this also once a month.
Spiritual
I have made a ton of progress on this front over the past year. Getting up early allows me to start my day by reading the Divine Hours. This year I want to find a church that I can truly consider a gospel community.
Mental
I am notorious for signing up for challenges/webinars/ecourses and not actually doing them! So this year I am going to pick one at a time to work my way through and implement what I'm learning.
Physical
In addition to completing 3 marathons within 90 days to quality for Marathon Maniacs, I am also going to run 40 miles over Woodstock weekend in the fall. I have not decided whether I'm going to do a triathlon this year BUT I am committed to swimming and yoga as cross training.
Financial
I have very specific financial goals for Wholistic Woman this year that I'm pretty excited about.
Weekly Wrap
The last week of 2016 was kind of crazy. As far as workouts go, I managed to get in all the runs that I had planned! And in true Michigan form, I ran in 50 degree weather and also in the ice and snow.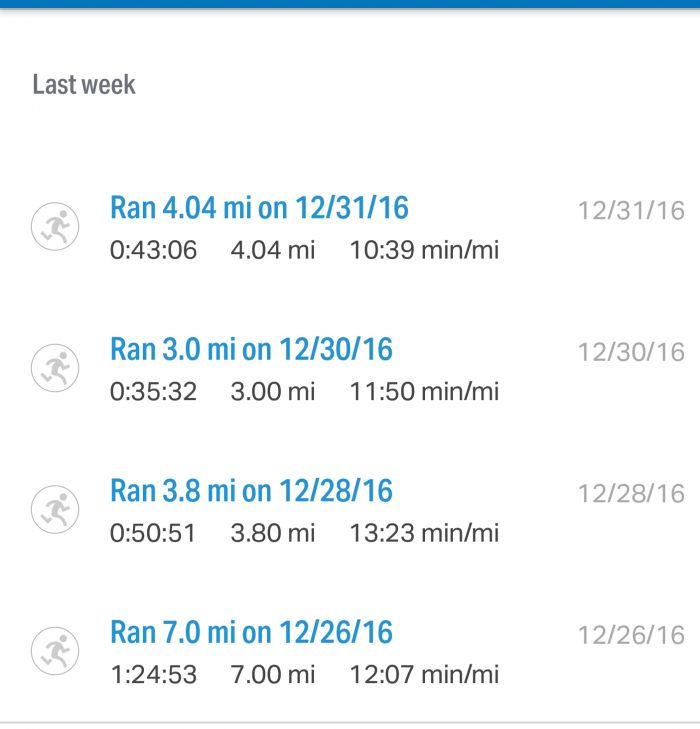 The nice weather was for Monday's long run. On the 28th I did my first hills and stairs group (lots of hills and  . . . stairs, so that's why my pace was so low.) I had a nice easy 3 mile run on the 30th and then on New Year's Eve we had our resolution run. It was so much fun, and I was able to pick my pace up quite a bit.
My eating, however, was not so great. I have discovered that running with our running group is great for running accountability, but all the beers and snacks at Founders afterwards sort of defeats the purpose. I failed my own clean eating challenge, haha.
I'm giving myself another challenge which I wrote about in this post–I'm joining the meal planning challenge. Just in time, since DH ended up in the hospital yesterday from a gall bladder attack 🙁 Looks like we have another reason to get back on the clean eating train!
This week's menu plan
Breakfasts: Eggs and sprouted grain toast
Snacks: Oranges, grapefruits, carrots with homemade hummus (I have lots leftover from New Year's Eve)
Dinners:
Monday: Leftover chili that DH made from scratch (leftover brisket, beans, home canned tomatoes, lots of seasonings)
Tuesday: We will be eating the snacks that they have at our running club open house. Here's hoping they have something healthy, otherwise we'll come home and have more chili.
Wednesday: Savory Sweet Onion Chicken
Thursday: Leftovers
Friday: Slow Cooker Cassoulet
Weekend: Leftovers
This week's workout plan
This week I want to continue my running routine. I feel like I'm finally getting all my planned runs in (funny how that happens now that I am signed up for three marathons!) Next week I'm going to add in some cross training. I'm still researching yoga and strength training and pool options.
Monday: Run 3
Wednesday: Run 4
Thursday: Run 3
Saturday: Run 5
Want more fitness inspiration? Visit the Weekly Wrap!
What are your fitness goals for 2017? Share in the comments below!