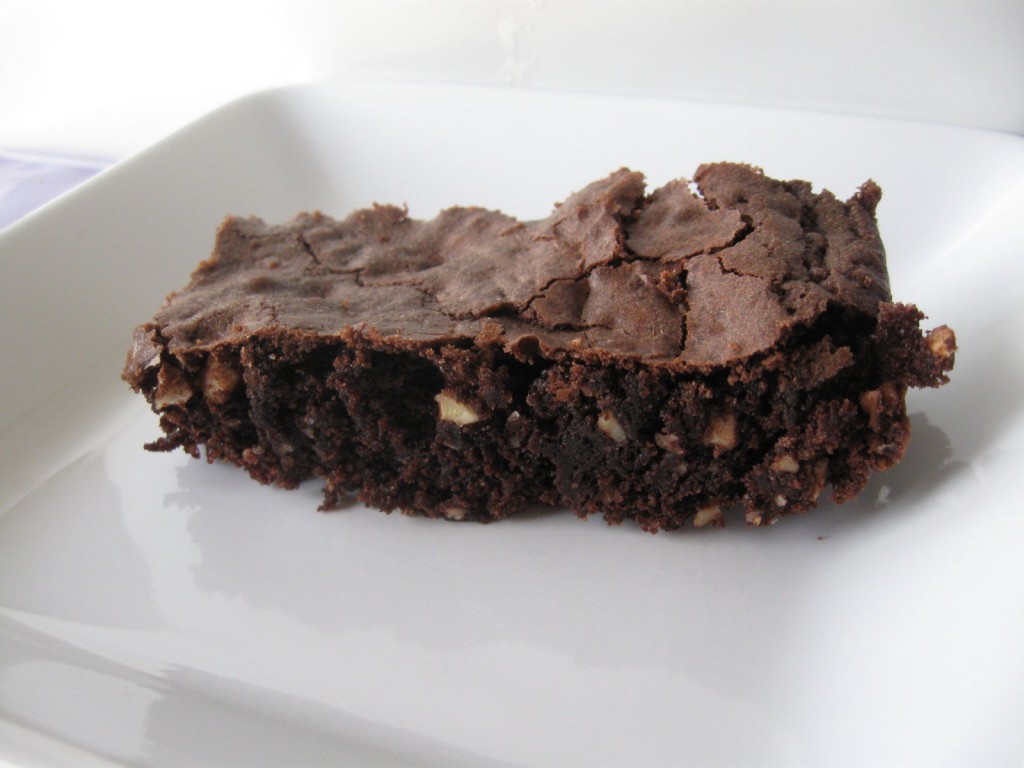 Today's #AddJoy challenge is to eat some chocolate! If you're watching calories, a simple dark chocolate square can often curb cravings and be very satisfying. If you're training (like me) and have some calories to spare, why not try this delicious recipe that combines two of my favorite things–coffee and chocolate!
Hazelnut Coffee Brownies. I LOVE coffee, so I knew I'd love these brownies. The best part? They're actually not too bad in calories. My coworkers loved them. Then again, they're impressed by anything not bought at Meijer's – especially if it's not from a boxed mix!
Of course, I did have to toast the hazelnuts and brew the coffee. So it was a little extra work. But the end result was well worth it.
Click here for a printable version: Hazelnut Coffee Brownies
Hazelnut Coffee Brownies
3/4 cup baking cocoa
1/2 tsp baking soda
1/2 cup strong hazelnut-flavored coffee (boiling)
1/3 cup butter (melted)
2 cups sugar
1/3 cup butter (melted)
2 eggs
1 1/3 cup flour
1 tsp vanilla
1/4 tsp salt
3.5 oz hazelnut chocolate bar (finely chopped)
3/4 cup hazelnuts (toasted and chopped)
1. Combine cocoa and baking soda in a medium bowl. I used a KitchenAid.
2. Add the coffee and butter and mix well. It will start to thicken.
3. Add the sugar, butter, and eggs and stir until it's smooth.
4. Add the flour, vanilla, and salt and blend completely.
5. Stir in the chocolate bar and hazelnuts. Bake in a 9×13 pan in a preheated oven at 350F for 35-40 minutes.
Servings: 24
The verdict: I'm not sure if it's because I used my fair trade cocoa or what, but these little guys were super rich. Oh my word. The texture was sort of cake-like, only the edges were chewy (because I didn't use my stoneware, I wanted to use my Pyrex carrier thingy). Not at all unpleasant. The hazelnuts were awesome in it, I'm glad I sprang for the filberts.
Nutrition Facts
Serving size: 1/24 of a recipe (1.8 ounces).
Percent daily values based on the Reference Daily Intake (RDI) for a 2000 calorie diet.
Nutrition information calculated from recipe ingredients.
Amount Per Serving
Calories 194.6
Calories From Fat (44%) 85.21
% Daily Value
Total Fat 9.77g 15%
Saturated Fat 4.46g 22%
Cholesterol 31.73mg 11%
Sodium 60.49mg 3%
Potassium 82.94mg 2%
Total Carbohydrates 26.03g 9%
Fiber 1.59g 6%
Sugar 18.56g
Protein 2.91g 6%