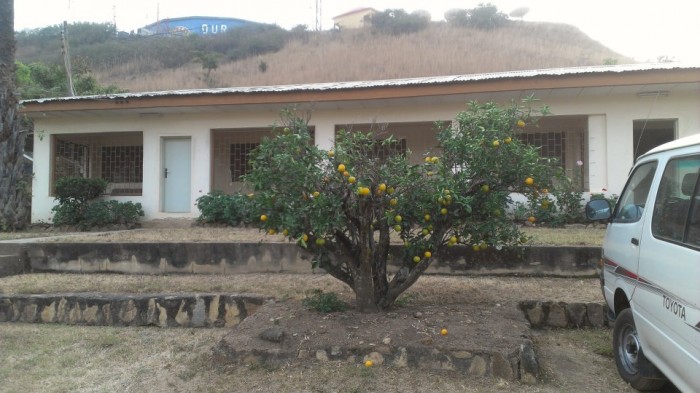 You may have noticed it's been a bit quiet on the blog – I have just returned from spending two weeks in Nigeria on an evaluation of a mission field. It's good to be home, but it was quite a shock coming from 100+ degree weather to the snow we're having in Michigan!
Since this is a food blog, I'll focus on what we ate, although there are SO many stories to tell. The mission organization I went with has been there since the 1920s, and we interviewed so many people. It was historical and beautiful. And very peaceful, since most of the time we were without steady electricity and internet.
The first night we arrived we had chicken, rice, and plantains for dinner. I seriously LOVE plantains. Our breakfasts were mostly granola or oatmeal. The first lunch I had was  pounded yam and groundnut stew.
I had so much pounded yam on this trip it was unbelievable. What is pounded yam you ask? It's that white ball in the plastic wrap above. Yams are a very fibrous tuber. The tubers are HUGE (up to 5 feet). The yams are cooked and then pounded for half an hour or so until it forms a very dense, sticky ball. It is usually served with egusi soup, but imagine my surprise when the missionaries who were hosting us served groundnut stew from Extending the Table (very similar to the groundnut stew recipe that I posted a few years ago from Simply in Season). Never fear, I DID get the chance to try the egusi several times throughout the rest of the trip.
I did feel like bit of a cheater since I used forks whenever it was provided, because that stuff is really hard to clean off your hands, especially when there's no running water and you are washing them in a little plastic tub. But the proper thing to do, which I did when we were out in the rural areas, is to take your right hand and form a smaller ball and then mix it up with the soup and then eat it that way.
On another night, I was surprised by another recipe I've posted here on this blog–Egyptian Rice and Lentils from Extending the Table. Except they served it without the pasta and WITH the brown onions. I was definitely jealous that they have a great cook who is able to do these recipes. I remember it being very time consuming.
We had many long days on bumpy roads (I think the record was 9 hours of driving). You may ask what one does when there is no drive through. Well, just like here, you stop at a gas station. But in Nigeria the food comes to you!
I have to tell you, their ground nuts (peanuts) are somehow super flavored. Not sure if it's a different variety than good ol' Planter's or what. The other thing I loved to eat was the fresh watermelon. It was incredibly sweet, and made me forget that back home it was January.
On a side note, despite eating all those carbs (pounded yam, rice, granola), I felt GREAT. I did not feel sick at all, and I actually lost a few pounds even though I felt like I was eating a lot. Maybe it was all the walking, or the fact that it was minimally processed.
So there you have it, what it looks like to eat locally in Nigeria.