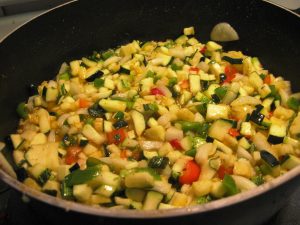 I never in a million years would have made this if I hadn't decided to cook all the recipes from Simply in Season. Sometimes it pays to take a chance!
FOR PRINTABLE VERSION CLICK HERE: Zucchini Relish
1 large red sweet pepper (chopped)
1 large green pepper (chopped)
10-12 cups zucchini (chopped)
2-4 cups onions (chopped)
5 Tbs salt
2 1/4 cups vinegar
4 cups sugar
2 Tbs cornstarch
1 Tbs ground nutmeg
1 Tbs dry mustard
1 Tbs ground turmeric
1 tsp celery salt (optional)
1/2 tsp pepper (optional)
1. Combine peppers, zucchini, onions, and salt and let stand overnight. Drain and rinse twice.
2. Combine remaining ingredients in a soup pot; add drained vegetables; bring to a boil. Lower heat and simmer 10-15 minutes, stirring frequently. Ladle into hot sterilized pint jars to within 1/2 inch of top, seal with sterilized lids, and process full jars in boiling water bath for 10 minutes.
Servings: 20
Yield: 7 pints
The Verdict: I LOVE Indian spices. When this was cooking, it magically transformed ho-hum zucchini into a relish that I would love to serve with my next Indian dinner.
Nutrition Facts
Serving size: 1/20 of a recipe (6.4 ounces).
Percent daily values based on the Reference Daily Intake (RDI) for a 2000 calorie diet.
Nutrition information calculated from recipe ingredients.
Amount Per Serving
Calories 190.33
Calories From Fat (2%) 3.43
% Daily Value
Total Fat 0.43g <1%
Saturated Fat 0.15g <1%
Cholesterol 0mg 0%
Sodium 1832.16mg 76%
Potassium 282.5mg 8%
Total Carbohydrates 48.39g 16%
Fiber 1.62g 6%
Sugar 42.75g
Protein 1.36g 3%
This recipe shared at Ultimate Recipe Swap