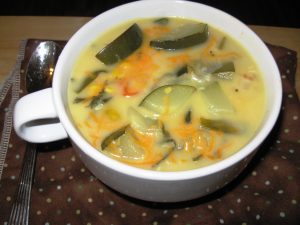 I can always tell when DH likes the recipe, because there are no leftovers! This is a "soup"er soup that tastes like summer!
FOR PRINTABLE VERSION CLICK HERE: Zucchini Garden Chowder
Source: Simply in Season
2 Tbs butter
2 medium zucchini (chopped)
1 medium onion (chopped)
2 Tbs fresh parsley (chopped)
1 Tbs fresh basil (chopped)
1/3 cup flour
3/4 tsp salt
1/2 tsp pepper
3 cups water
3 chicken or vegetable bouillon cubes
1 tsp lemon juice
2 cups tomatoes (chopped)
1 1/2 cups evaporated milk (I substituted 1 C milk and 1/3 C dry milk powder)
2 cups corn
2 cups cheddar cheese (shredded)
1/4 cup Parmesan cheese (freshly grated; I omitted this)
1. Melt butter in a large soup pot over medium heat; add zucchini, onion, parsley, basil, and saute' until tender.
2. Add the flour, salt, and pepper to the vegetables. Slowly add the water, stirring in until smooth.
3. Add the bouillon cubes and lemon juice; bring to a boil; reduce and cook for 2 minutes, stirring often.
4. Add the tomatoes, milk, corn and return to a boil. Reduce heat and simmer for 5 minutes or until corn is tender.
5. Add the cheese just before serving. May add a pinch of sugar to taste. I skipped this step and just sprinkled the cheese on when serving.
Servings: 8
The Verdict: As I mentioned in the intro, there were no leftovers! I loved this and so did DH. Something about the fresh basil, I think, and I've decided that I really do like zucchini.
Nutrition Facts
Serving size: 1/8 of a recipe (11.4 ounces).
Percent daily values based on the Reference Daily Intake (RDI) for a 2000 calorie diet.
Nutrition information calculated from recipe ingredients.
Amount Per Serving
Calories 383.68
Calories From Fat (39%) 150.29
% Daily Value
Total Fat 17.11g 26%
Saturated Fat 10.57g 53%
Cholesterol 53.85mg 18%
Sodium 645.56mg 27%
Potassium 476.52mg 14%
Total Carbohydrates 44.01g 15%
Fiber 2.09g 8%
Sugar 7.82g
Protein 13.54g 27%