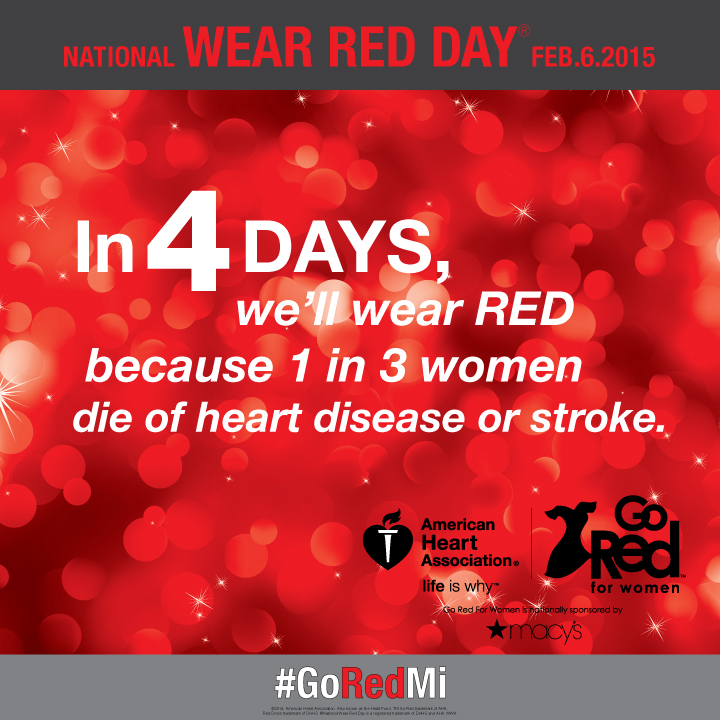 Friday, Feb. 6, 2015, is National Wear Red Day, the day when red becomes the most fashionable color in Michigan and across the country.  On this day, thousands of people, employees at more than 10,000 companies, along with national and local news anchors and talk-show hosts will wear red to support the cause. The red dress and the color red are symbols for women and heart disease and the American Heart Association's Go Red For Women movement.
The American Heart Association encourages area residents to show their support for the Go Red For Women movement by wearing red that day.  Heart disease is not just a man's disease, in fact, heart disease and stroke kill 1 in 3 women, yet it's 80% preventable.
On Friday, Feb. 6th, show the world you've made it your mission to support the American Heart Association's Go Red For Women movement and save women's lives from heart disease – the No. 1 killer of women.
To help us raise awareness to end this killer of women, make a change on National Wear Red Day and all year long!
1.Wear Red to show your support for saving women's lives
2.Show us how you Go Red on your social media profiles using #GoRed and #GoRedMi
3.Donate to help raise funds for awareness and research
The association also encourages businesses to Go Red by changing outdoor lighting to red, hanging banners, and creating red displays. Many organizations will also be coordinating their own fundraisers to raise dollars and awareness for heart disease. To learn more about Wear Red Day, visit www.GoRedForWomen.org/WearRedDay.