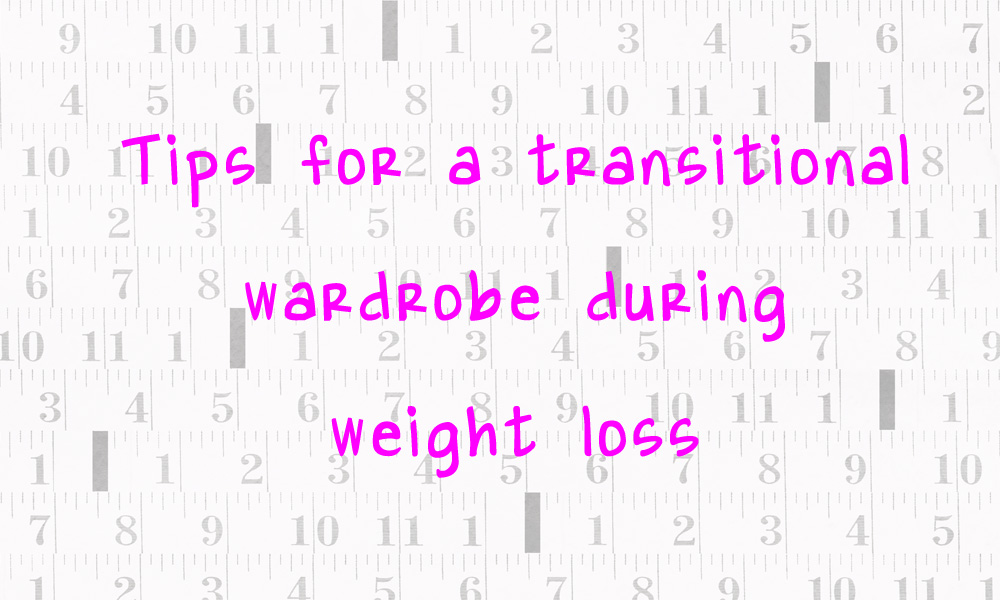 I never really thought of myself as a fashionista, but I have always received compliments on what I wear. Co-workers have asked my advice and where I get my clothes, from the time I was skinny to fat and skinny again. So I figure I must be doing something right. I have also had my sisters, co-workers and friends say things like, "Oh, that is so you!" or "You don't wear much brown."
Truthfully I really don't pay much attention to what other people wear. So I'm shocked that people notice that I don't wear much brown, for example. Which is true, because I find it easier to accessorize if my go-to is black or gray and then everything else carries the color. But I digress. I'm doing a two-part series on what to wear while losing weight. Because I did a TON of research on this and hopefully it can help someone else.
Part 1 is going to focus on the rapid weight-loss phase, assuming that one is plus size. This is relevant whether you had weight loss surgery or not, but the problem is more pronounced for people who had surgery because literally you can be changing sizes every week for a couple of months. Then things slow down, you find yourself out of plus size, and have a lot more options. (Not plus size? You will still find some tips here, but Part 2 will be much more relevant for you.)
I'm also going to assume that you work in a professional environment because that adds a little bit of challenge. DH can get away with wearing jeans and t shirts to work, so he just heads to the local Goodwill or Walmart when he needs new duds but I can only wear jeans on Friday. The rest of the week it's business casual. I'm also going to assume that you're on a budget, because if money is no object that you can just go to the mall every weekend 🙂
Organize your closet
Who has time to organize their closet? Let's ask the question another way: Who has time to comb through their clothes every morning trying to find something that fits and is wearable? Or to go shopping for the next size pair of jeans only to find the size in the recesses of the closet? Trust me, you will save so much time if you take stock of what you have.
Do a clean sweep. Now is the time to drag everything out of the recesses of your closet(s). It is helpful if you've done laundry recently so you can do everything at once. Get comfy, because you'll be trying everything on. Find those bags you may have stored and empty out the dresser. Your closet should be pretty empty.
Make four piles and sort those clothes.

Wear now. This pile is for clothes that fit (honestly fit, no sucking in or hanging on for dear life. Baggy doesn't do anyone any favors.)
Wear later. This pile is for clothes that are too small, still in good condition, and that you still like. If you've been holding on to a shirt since the 90s hoping to fit back into it someday, ask yourself if it is still in style. If so, put it in this pile. If not, let it go.
Donate/sell. This pile is for clothes in good condition (no pit stains). You can either drop them off at Goodwill, find a friend who is a larger size than you, participate in a clothing swap, or if they are higher end clothes you can sell them at a consignment shop or online at places like Twice or thredUP (referral links). Since I tend to wear my clothes until they wear out (or I did when I was a stable size), I didn't bother trying to sell them.
Recycle. Yes, you *could* throw anything that doesn't fit into the above categories in the landfill, but you might also consider experimenting with upcycling, using for rags, sewing, or finding a local recycling center that accepts textiles.

Put the "wear now" clothes front and center. Now it's time to return the well-fitting clothes that you love back in the closet. Make sure they are easily accessible, because you will be accessing them every day. The level of organization is up to you. I'm sure you can find lots of ideas on Pinterest and color coded systems that are way beyond my level of interest. I have one of those closets that has bifold doors and not a ton of space. I actually have my dresser in the closet because we have a small bedroom. This is what works for me:

Hanging up: Dresses and tops, sleeveless dresses and tops (I can't show my tattoos at work), cardis and blazers, and dress pants.
Stackable bins: Athletic wear separated into long sleeve, short sleeve, sleeveless, cycling
Wire bins on top of dresser: Leggings, items to return (more about that later), laundry bags (for washing delicates)
On the first shelf above the hanging clothes: Wire bins for jeans, t shirts, sweaters, other knits.
On the second shelf above the hanging clothes: Out of season storage, clothes that are too small for now.

Dedicate a bag, shelf, or some place to put clothes as you shrink out of them. This is important because you don't want to hang on to clothes that are hanging off of you. Then when you are putting clothes away after laundry, you can put the too big items in the bag so you can either donate or sell them. This frees up valuable space in your closet and makes it easier to see what you have.
Identify the gaps
The next step is to identify any gaps. Remember, this is a transitional wardrobe so the idea is to get by without spending a fortune on items you will only use a time or two. But at the same time you don't want to look frumpy. There are lots of articles about minimal wardrobe plans out there, but my favorite isn't even available on the internet any more. So I will retell it as best I remember (i.e., how I've adapted it to work for me.) The idea is to not repeat outfits more than once every two weeks. For me this means having the following in my closet at all times:
1-2 pairs of jeans
2-3 pairs of black/neutral dress pants
1-2 neutral skirts (before I became a skirt person I had more neutral dress pants instead)
8 dressy tops to coordinate with the dress pants/skirts
1 pair semi casual pants (like chinos, cargos)
3-6 casual weekend shirts
1-2 dresses suitable for day/night (more if going the dress route rather than separates; then you would need 8 dresses)
6 workout outfits (bottoms, sports bras, tops)
14 pairs underwear (I hate doing laundry)
appropriate bras / undergarments
sleepwear
To some that might seem really minimal. And it is! The goal is to have something to wear without restocking a complete wardrobe right now. (That will be part 2 in this series). If it seems too minimal, sit down and write out what you wear for two weeks (it's OK to repeat neutral bottoms / blazers). Use that as a guide.
Buy or rent transitional clothing
So now you know where the gaps are. Now what? You don't want to spend a ton of money on items that will only fit for a few weeks. Now it's time to get creative. Here are some places to explore:
Thrift shops. This can be consignment or Goodwill. In my area, Goodwill is a great place to get jeans. Everything else is pretty hit or miss.
Friends / swaps. If you are in a weight loss support group, ask around – chances are you will find someone eager to get rid of their clothes that are now too big. Or ask your friends on Facebook if you don't mind sharing your size.
Lower end stores. Old Navy, Target, H&M, JC Penny, Kohl's, even Costco can be a source of inexpensive basics.
Online deal sites. This might be an option if you are losing slowly. When I was a more steady weight I loved places like Zulily. Unfortunately with the long shipping times I found myself not sure what size to order. Plus I needed clothes NOW.
Another option is to consider renting. I found it was a great way to stay in the correct size and be able to have a higher quality work wardrobe than I would have been able to afford otherwise.
Gwynnie Bee is the best choice for plus size ladies. They say sizes 10-32 but once I got down to 14 I found my choices really limited. You subscribe for a specific number of items per month, and you are free to wear them for as long as you want. Send them back when you're done wearing them (they do the cleaning, woo hoo!) and they will send you items from your queue. It's primarily dresses, tops and skirts because they are the most forgiving items size wise (a good tip for shopping while in transition, too!) You can also purchase items you can't bear to part with. (See photos above for some of my favorite GB outfits).
The Ms. Collection is the closest thing I could find once I no longer fit in Gwynnie Bee. They carry sizes XS through XL and sizes 2 through 14. You basically rent one tote per month, and can either buy or return the items after wearing.
Final tips
In general, dresses with belts or shirts with ties / belts work best to last over multiple sizes
Get rid of clothes as soon as they no longer fit
Get over any fears of used clothing
What are some of your favorite tips? Anything I've missed?