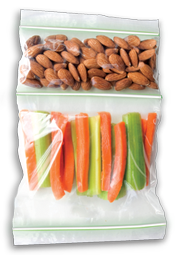 When ChicExecs asked if I was interested in reviewing Ecozip bags, at first I was like "um, OK, it's a baggie. But sure." Then I thought "hmm, do I really want people to know I use plastic baggies?" I'd love for you all to think I have a cabinet full of organic fair-trade glassware that I use for leftovers and such. Alas, my IRL friends would call me out.
Yes, I do admit to using baggies. But at least with Ecozip I don't have to feel *as* guilty. The cool thing is it has a separate zip option in the middle of the bags, so you can use it for two things at once or just open it up for a larger bag. According to their marketing materials, it's BPA free – but it doesn't say so on their website, not sure what's up with that.
Although they're a bit pricey, I do think I'll get some of the gallon size when CSA season comes around. Plastic bags are the fastest way to store greens, and if it's BPA free I'll feel better about using them.
Disclosure: I received a sample for free but all opinions are my own.
This post shared at Things I Love Thursday