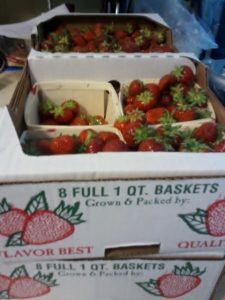 Two flats of gorgeous strawberries (minus the couple of quarts we ate). I searched through all my cookbooks and canning books. Balsamic strawberry jam? Rhubarb strawberry jam? Strawberry jam infused with lavender? In the end I decided to take a friend's advice and just let the strawberries shine with regular old freezer jam.
It was my first time making freezer jam, although my Mom used to make it when I was a kid. It's super simple, really. I followed the directions on the Ball website.
Ingredients for a big batch:
2 C sugar
6 Tbsp instant fruit pectin
5 C strawberries, hulled and washed
Directions:
Stir together sugar and pectin
Mash strawberries, then dump into the sugar and pectin mixture. Stir for 3 minutes.
Ladle into freezer jars/containers (leading 1/2 inch headspace) and let sit for 30 minutes. Enjoy immediately or keeps in refrigerator for 3 weeks; in the freezer for a year.
Delicious! Reminds me of when I was a kid.
This post shared at Things I Love Thursday, Frugal Friday, Grocery Cart Challenge, Seasonal Sunday