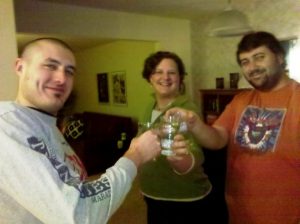 I've come to the conclusion that the second week of each month I will neither lose nor gain weight; such is the rhythm of life.
I didn't overindulge *too* much on Superbowl Sunday, or at the Wild Game Dinner. For the most part I've stayed on track with calories. I went cross country skiing on Tuesday night, which according to my arm band burned 900 calories!
I have been LOVING my business classes. I feel that life is full of possibilities. I feel like I did . . . back when I was skinny. The successful "me" in my mind has lost some weight and is more active. She has a fabulous career, a husband with a wildly successful brewing company, and does consulting on the side.
For the first time in a long time I feel like I can be that person; the girl in a short skirt and a long jacket. Just as I'm learning the steps to start and run a business, I am taking the steps to lose weight. It all comes down to hard work and dedication. Every time I count my calories, every time I go skiing, every time I decide against eating that piece of store bought cake that tastes like cardboard anyway–I take one step closer to my goal. Even if it seems like things are at a standstill; even if I gain a little; I'm in this for the long haul. and I WILL be successful.
What steps are you taking towards YOUR goals?
this post shared at Gratituesday