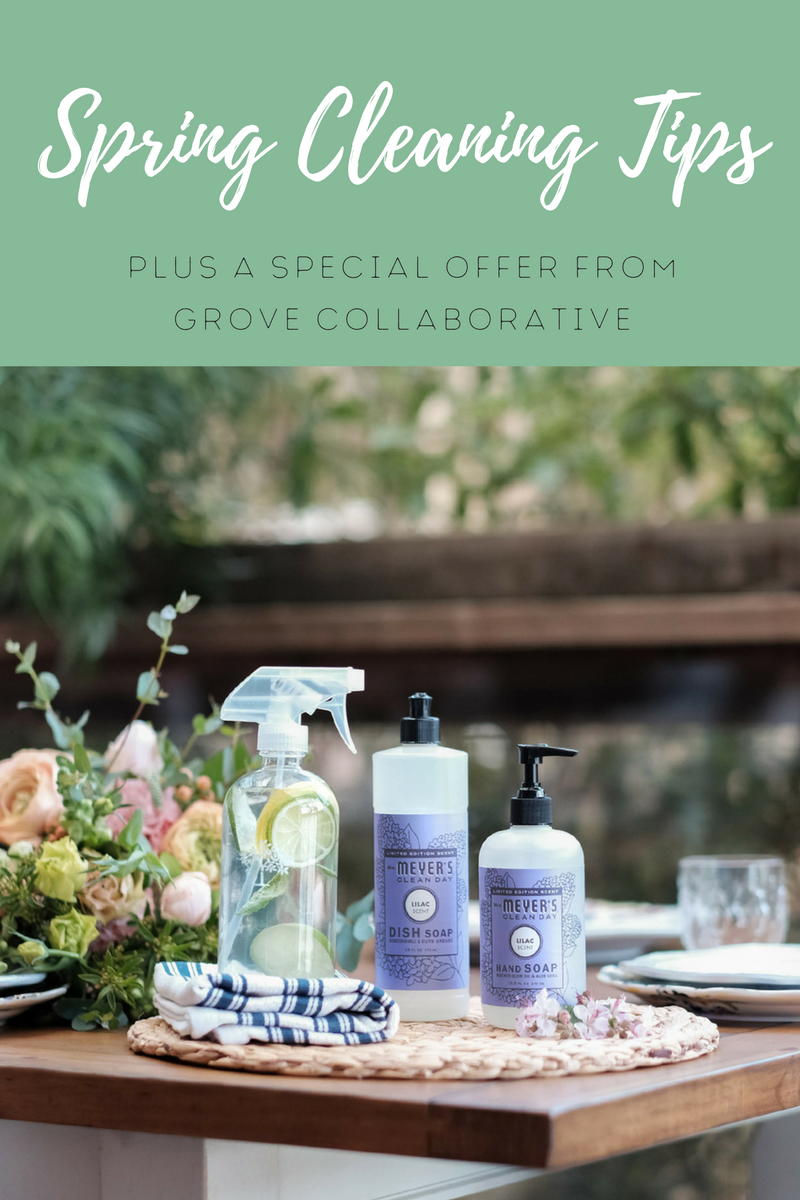 So even though it's not quite spring yet, I've been decluttering like crazy. Tomorrow I'll go a bit more in-depth about my approach to cleaning, decluttering, FlyLady, UFYH, and more. But today I wanted to share some quick tips in case you are ready to get to it!
First of all, I have to give a shout-out to Grove Collaborative and Mrs. Meyers cleaning products. I know you can DIY, but maybe you are like me and have other things to do (like marathon training or NetFlix). The convenience is worth it to me and when I get a new scent I'm all giddy and actually excited to clean. Everything from Grove Collaborative is natural and gets things just as clean if not cleaner than the nasty-smelling harsh alternatives.
If you need some cleaning inspiration of your own, be sure to grab this free seasonal set of Mrs. Meyer's spring soaps + Grove Collaborative glass spray bottle + walnut scrubber sponges from Grove Collaborative! Then use these cleaning tips & tricks to invite spring into your home.
Prep:
Unless you love cleaning, don't try to tackle everything in one day! Pick one thing to clean each day for just 5-10 minutes (come back tomorrow and I'll share some more tips about how to tackle cleaning and decluttering).

Round up all your cleaning supplies into a bucket or caddy. Then you can just grab and go when you have a minute to clean.
Kitchen:
Coffee is a non-negotiable for me. To keep your morning cup tasting fresh, fill up the chamber with a 50/50 mix of water and vinegar and run a brewing cycle. Brew 3 pots of clear water to make sure all the vinegar is rinsed out. Then wash the carafe with Mrs. Meyer's dish soap.

Ever notice that nasty gunk in the microwave? No? Go check it out and you will forever be grossed out. If someone forgot to cover the food, it can be a challenge to get the nasty bits off even with scrubbing. So now what

?

Fill a microwave safe bowl with water and a sliced up lemon. Microwave for about 3 minutes so the water boils, then let the steam sit in the microwave for another 5 minutes. The steam will loosen gunk and food so you can easily wipe it away with a sponge!

While you're busy tidying up, toss your old sponges. Replace them with these Grove Collaborative walnut scrubber sponges, which are made from crushed walnuts! To keep them fresh, toss them in the dishwasher once a week on the top rack.
Living room:
You've been snuggled up on the couch all winter, but now your pillows and cushions could use some freshening up. Try this DIY fabric spray: 1 tablespoon of baking soda, 5-10 drops of essential oil, and water in your Grove Collaborative spray bottle.

Indoor crafts, snacks, and slushy boots can leave lots of mystery stains on the carpet. We have actually ripped out almost all the carpet in our house because it can get so nasty with two dogs and a cat. But if you have carpet, here's a trick of the trade: Mix one tablespoon of Mrs. Meyer's dish soap into a cup of hot water. Dip a white rag into the solutions and blot it into the stain.
Bonus tip: While you're tidying up, don't forget to stock up on essential supplies like toilet paper and paper towels. Grove Collaborative delivers the best natural household products from Seventh Generation, Method, Mrs. Meyer's and more right to your door. So easy!
Bathroom:
A change of seasons calls for a change of scents. Put out a pretty new hand soap (I love Mrs. Meyer's lilac) and a fresh towel. As a bonus, this Mrs. Meyer's soap adds a pretty pop of spring color to your countertop.

There's nothing worse than cleaning the drain (

ick!

), so pour a pot of boiling water down the drain and let it do the hard work instead.

After all that cleaning, there's nothing better than a relaxing shower — but mineral deposits can slow your water pressure to a trickle. Soak a few paper towels with vinegar and wrap them around the shower head, covering all the spray nozzles. Leave the paper towels overnight, then remove them and run the water to rinse.
That's it for the spring cleaning tips! Now for the offer . . .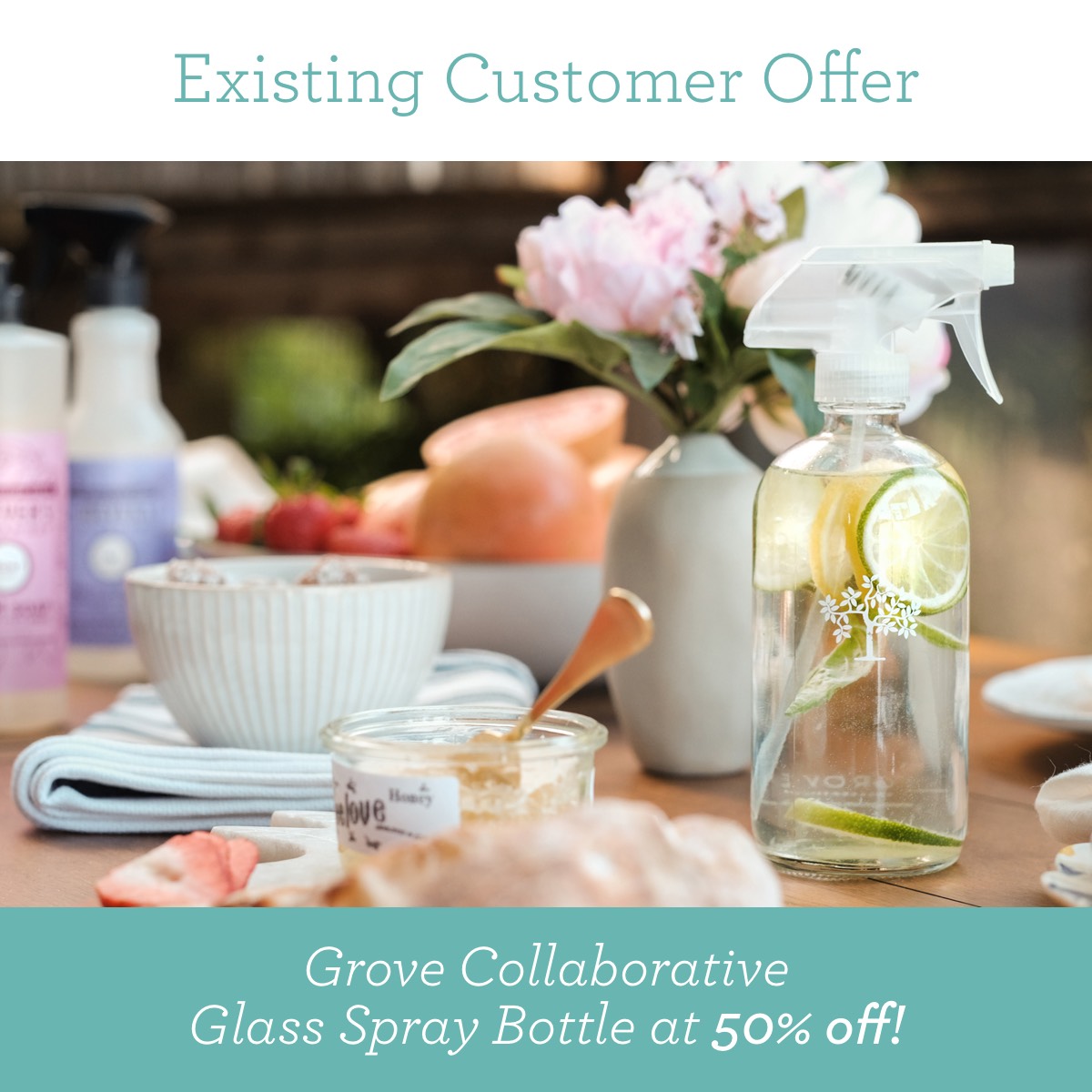 Don't forget, this offer from Grove Collaborative ends March 19 so grab your free spring set now!