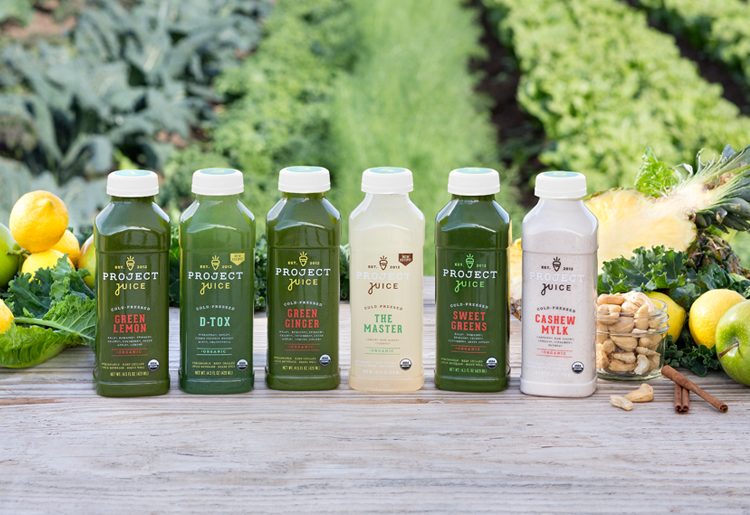 I've always wanted to try a juice fast. I wondered if I could do it, if I would have blood sugar issues, if it would drive me crazy to not be able to chew, and if it would give me too many flashbacks from being post op bariatric surgery when I lived on liquids for a couple of weeks.
So when Project Juice offered to let me try their one day cleanse in exchange for an honest review, I jumped at the chance. Ordering on their website was very easy, and I opted for the Energy Upgrade which includes cold brew coffee and a mineral shot because I was NOT going to give up my coffee, haha.
Shipping was very fast and it came in a cold pack. It was so exciting to open the package.
I love they included a little guide to cleansing (emailed ahead of time and also with the package) which gave me the reassurance that this was going to be a safe process. Of course, I also knew enough to pay attention to my body throughout.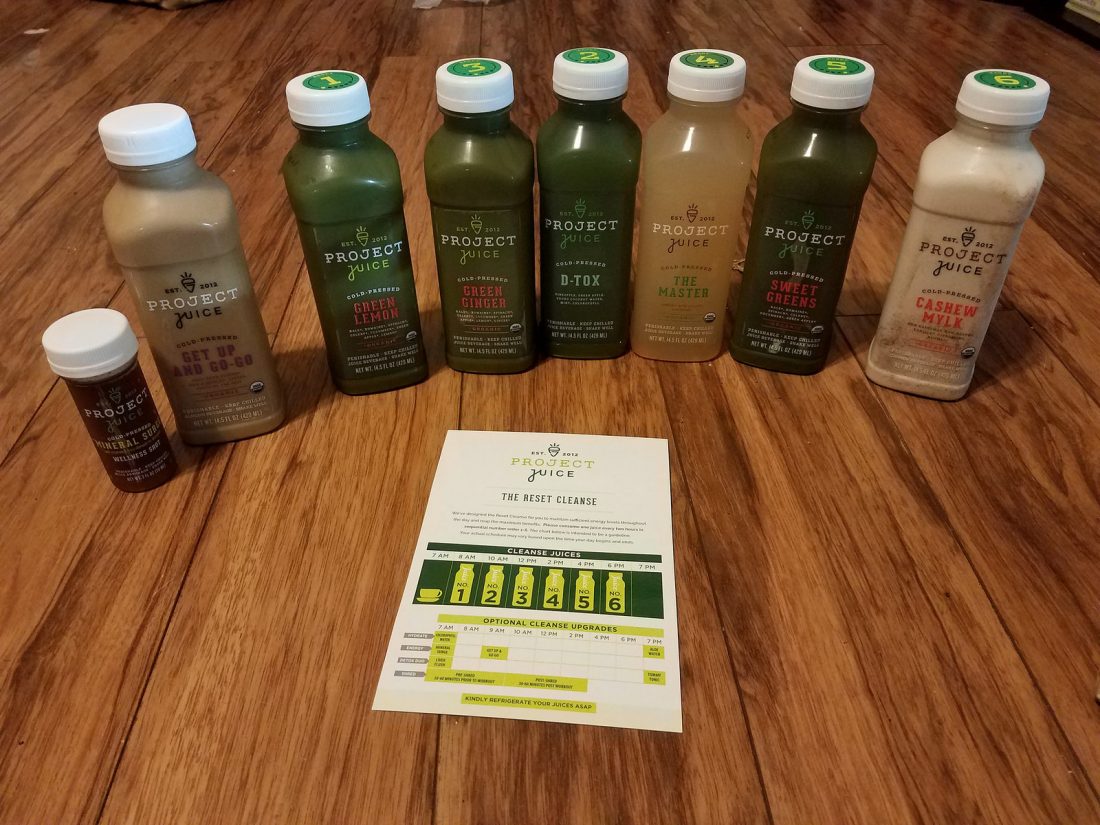 Ideally I would have taken the day off of work and not done this on the first day of my cycle, but it was difficult to find a day where I wasn't going to be traveling or having an event where I would be consuming food or alcohol. So I made do.
When I woke up the morning of the cleanse, I decided to cheat a little and go ahead and have my morning latte. At least I used Hemp milk though 🙂
I packed up my bottles in a little cooler for work and headed out. When I arrived at work, the first order of business was the Mineral Shot.
Honestly, this was SUPER disgusting. I did feel some energy, but not sure if it was from the shock of the taste or the minerals. I was more than happy to drink the two glasses of water that they recommended in between that and the next bottle. I was immediately thankful for two things:
That my office is right across the hall from the kitchen (filtered water and refrigerator, score!)
That my office is also quite close to the restroom. As I started filling in the circles on my water tracker I realized this was going to be a several visits to the restroom kind of day.
Next up was the Green Lemon.
This was surprisingly refreshing and tasty. At this stage I felt like I had lots of energy, and was not hungry at all.
After two more glasses of water (I also realized how difficult it is to drink that much water without really concentrating), it was time for the coffee shot. Oh yeah!
That was highly satisfying.
Next up was the D-Tox.
This one seemed really sweet to me. Also, my coworker noticed my newfound bottle of green stuff addiction. I explained what I was doing. Then I headed off to the restroom (again). Pee city! I still wasn't hungry though.
After a couple more dots on my water tracker, it was time for the Green Ginger. At this point I was glad that the bottles were numbered on top and that they had provided the handy little sheet giving times. The hours and bottles were starting to run together.
I decided that I REALLY liked the Green Ginger. It was nice and warming. I can imagine buying some of it on its own to drink in the winter.
Next up was The Master. This is the classic cleanse recipe that you see whenever you Google cleanses. Lemon, cayenne, water, and agave (although the homemade versions usually call for pure maple syrup instead of agave).
It was surprisingly a little fizzy. At this point, I was peeing A LOT. As in I was wearing a path between my office and the restroom. I was also starting to feel a little bit dizzy. I wondered if it was such a good idea to try this on the first day of my cycle. I was glad I had decided not to do hills & stairs with the running club. I wasn't going to have any energy to do that much exercise.
By the time I got home from work it was time for the Sweet Greens.
It was really tasty, but at this point I was feeling a bit shaky. I made the decision to make myself some Kitchari, which I had had on a cleanse that my holistic health coach put me on a couple of years ago. That way I felt like I wasn't "really" cheating. It was a good decision, because I felt stabilized and warmed almost immediately.
Here is the recipe:
Kitchari
1 cup white basmati rice
1 cup split mung beans
1 tablespoon ghee
1 /4 teaspoon cumin seeds
1 /4 teaspoon brown mustard seeds
1 /4 teaspoon turmeric
1 /4 teaspoon rock salt or sea salt
4 cups water

1. Rinse the rice and mung beans until the water is clear.

2. In a saucepan over medium heat, heat the ghee and add the mustard seeds and cumin seeds. Stir a moment until the seeds pop.

3. Add the rice, mung beans, turmeric, and salt, and stir until well blended with the spices.
At this point I was exhausted and went to bed. I decided to finish the Cashew Mylk in the morning as a breakfast replacement.
I thought I was going to like it because I love cinnamon and nutmeg, but for some reason it didn't sit well. I felt a bit flushed after drinking it.
What I Learned
Overall, I really liked the cleanse and the fact that everything was put together for me and laid out so that it was easy to follow. Next time I won't do it on the first day of my cycle. I did feel better though, and was able to focus on making healthier food choices for the next few days. I can definitely see myself doing this again in the spring. I love the convenience of Project Juice and would highly recommend them.
Have you ever done a cleanse? Share your experiences in the comments below!
This post includes affiliate links.