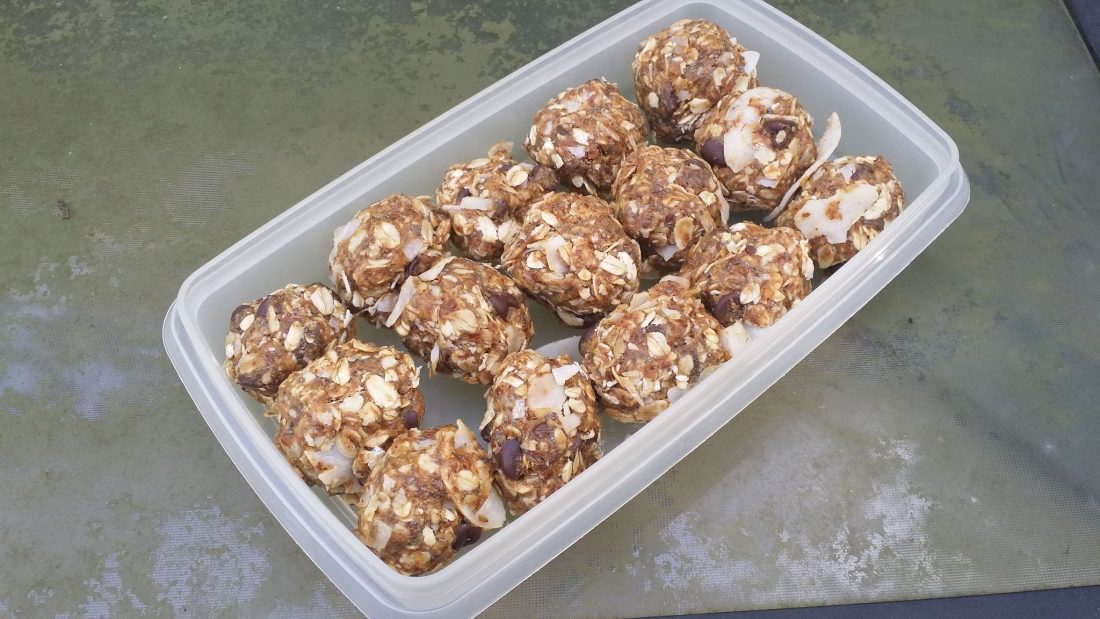 I have seen these energy balls on Pinterest and Facebook and all over the place. My sister also made a version for our family vacation this summer. I FINALLY got around to making them, and let me tell you–I am now addicted!
They are a great post workout snack or quick breakfast and super easy to make.
I believe these are originally from thewhoot.com/au, where you can find some variations.
Ingredients:
1 cup old fashioned oats (uncooked, not quick cooking)
2/3 cup unsweetened coconut flakes
1/2 cup peanut butter
1/2 cup ground flaxseed (also called flaxmeal)
1/2 cup chocolate chips
1/3 cup honey
1 Tbsp chia seeds
1 tsp vanilla extract
Directions:
Mix all ingredients together in a medium bowl. Refrigerate for about half an hour.
Roll them into balls about 1″ in diameter. If  it's not quite sticking together, you can add more honey and/or peanut butter.
Store in airtight container in refrigerator.
The Verdict: DH and I have eaten three batches in the past couple of weeks, I think I've found my new snack staple!