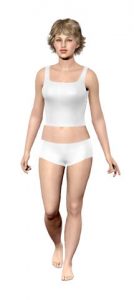 A couple of more pounds and I'll be back down to 12 pounds lost (net) for the year. Today I thought I'd share a tip with you that I just learned on the Clutter Diet that works just as well for weight loss!
When I went through my divorce about 7 years ago, I had a wonderful therapist who taught me some great techniques for making decisions and keeping a balanced perspective. One of my favorites is whenever you are torn about something, put two chairs next two each other and decide that when you are sitting in one chair, you will argue for perspective A. When you are sitting in the other, argue for perspective B. Then proceed to have an argument with yourself. For some reason, physically getting up and switching chairs really helps you hash things out in your own head. Sounds weird, but it works!
Recently I started the Clutter Diet. (I figured I might as well shed pounds AND clutter this year, right?) One of Lorie's techniques is to think about how doing something today will help your future self. For example, if you do the dishes tonight, your future self of tomorrow will thank you for doing it for her. It sounded weird when I read it, but I found myself over the past couple of days thinking about how I want to be nice to my future self. So I've been putting things away and not leaving them for her to do. I know it's just a visualization exercise, and I've done visualization exercises before, but for some reason this one has stuck with me and is actually affecting my behavior.
The image at the beginning of this post is my future self, courtesy of My Virtual Model. (Notice she is skinny!) Last week's self did not do so well, there was a little fast food, no exercise, and not every single calorie was counted. She did spend time cleaning and counted most calories, though, so the current self will give her a break . I will do better this week so that my future self can be proud.
This post shared at Anti-Procrastination Tuesdays