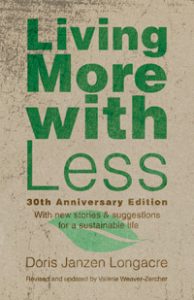 At first, I was disappointed that there weren't more "how to" suggestions; then, I realized that the beauty of this book is that it doesn't include more "how to" suggestions.
Living More with Less varies so radically from person to person; some choose to live with less, others do so out of necessity. What might seem indispensible to some may be a luxury to someone else. This book provides a framework for living, from which one can make their own choices.
I have been feeling a yearning to simplify my life recently, as if there are too many things to keep up with. So I was ready to receive the message imparted by Living More with Less (30th Anniversary Edition).
There are five Life Standards set forth by Doris Janzen Longacre:
Do Justice
Learn from the World Community
Nurture People
Cherish the Natural Order
Nonconform Freely
I'll explore each of these themes on a weekly basis. Although the book is written from an Anabaptist tradition, I'll be adding my own Reformed perspective and hope that no matter what faith you are, you will be able to glean some words of wisdom and find inspiration for simplifying your own life. Because January is the time for challenges, I'll also include some ideas for putting the ideas into practice. I hope you can share your own ideas, too!
Money and Stewardship
Homes
Homekeeping
Gardens,Farms, and Markets
Cooking and Eating
Clothes and Bodies
Transportation and Travel
Recreation and Schedules
Celebrations and Life Passages
Technology and Media
Building Community
Review and giveaway copy provided by Herald Press; congratulations to Jules, and thank you to everyone who entered! The giveaway is now closed.
This post shared at Frugal Friday