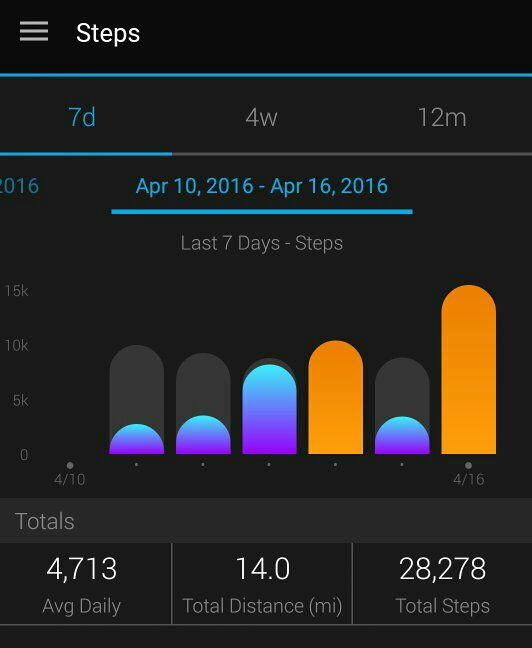 We are having a step challenge at work, and at first I wasn't going to participate. It didn't seem fair for a marathoner-in-training to compete. But I wondered what my steps would be, so I turned on the activity tracker on my Garmin and was surprised to discover that on days I don't run? Definitely sedentary.
They say that 10,000 steps a day is ideal. But the only days I hit that were days that I worked out (this past week was a bit lax, I did a strength training class on Wednesday that totally wiped me out – my first time using weights in YEARS!) But it definitely contributed to my step count.
The other orange day was my run on Saturday. It was supposed to be a 12 mile run but it was SO HOT. Seriously, last week I posted about running in the snow and this week it was in the upper 70s!
On the plus side, we had our first bonfire of the year at our friends' house. So glad it's spring finally. Here's hoping the snow is gone for good. Or at least until November.
In other news, I started my nutrition self-study class. It has been fascinating even though I'm only through the introduction and first chapter. I know they say you are what you eat, but I'm realizing how true that is. For some reason learning the science, although it is not my strength, is helping me see just how important nutrition is.
This week I have some serious cooking, baking and writing to do in preparation for Brunch Week and the launch of Simple Seasonal Meal Plans, both of which kick off May 1!
Luckily the temperature is supposed to cool down after today because I also have some serious mileage ahead. On the training schedule:
Monday: Run 6
Wednesday: Run 12
Thursday: Run 8
Saturday: Run 20 (eep! My longest run EVER)
I also know that I *should* do strength training again but after how much I hurt last Wednesday I might just do some runner's yoga because I don't want to injure myself by trying to get heavy duty into strength training while simultaneously increasing my mileage so much.
Hope you have a great week! For more inspiration from active women check out The Weekly Wrap.