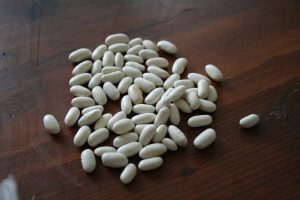 While reading Kitchen Stewardship's Everything Beans Book, I saw instructions for cooking beans in a pressure cooker–without soaking first! I decided to give it a try.
Ingredients:
1 lb (about 2 1/2 C) dried beans
9 C water
3/4 tsp salt
1 Tbsp oil
Directions:
Rinse beans and place in pressure cooker with the rest of the ingredients.
Bring pressure cooker up to pressure on high; start timer. In the case of white beans, let cook for 32 minutes. (Consult The Everything Beans book or Google for other bean type times)
Let pressure release naturally (this can take another 15 minutes or so).
This resulted in a firmly cooked bean–just perfect for the stew I made with it (come back tomorrow for the recipe!). I am falling in love with my pressure cooker again. And, I had forgotten how good beans are when they are made from dried beans (as opposed to all mushy from a can).
This post shared at Kitchen Tip Tuesdays , Frugal Friday and Frugal Tuesday Tip
Join the 3 day clean eating challenge!
Clean eating doesn't have to be hard! Join us to discover just how easy it can be to feel better and get healthy.