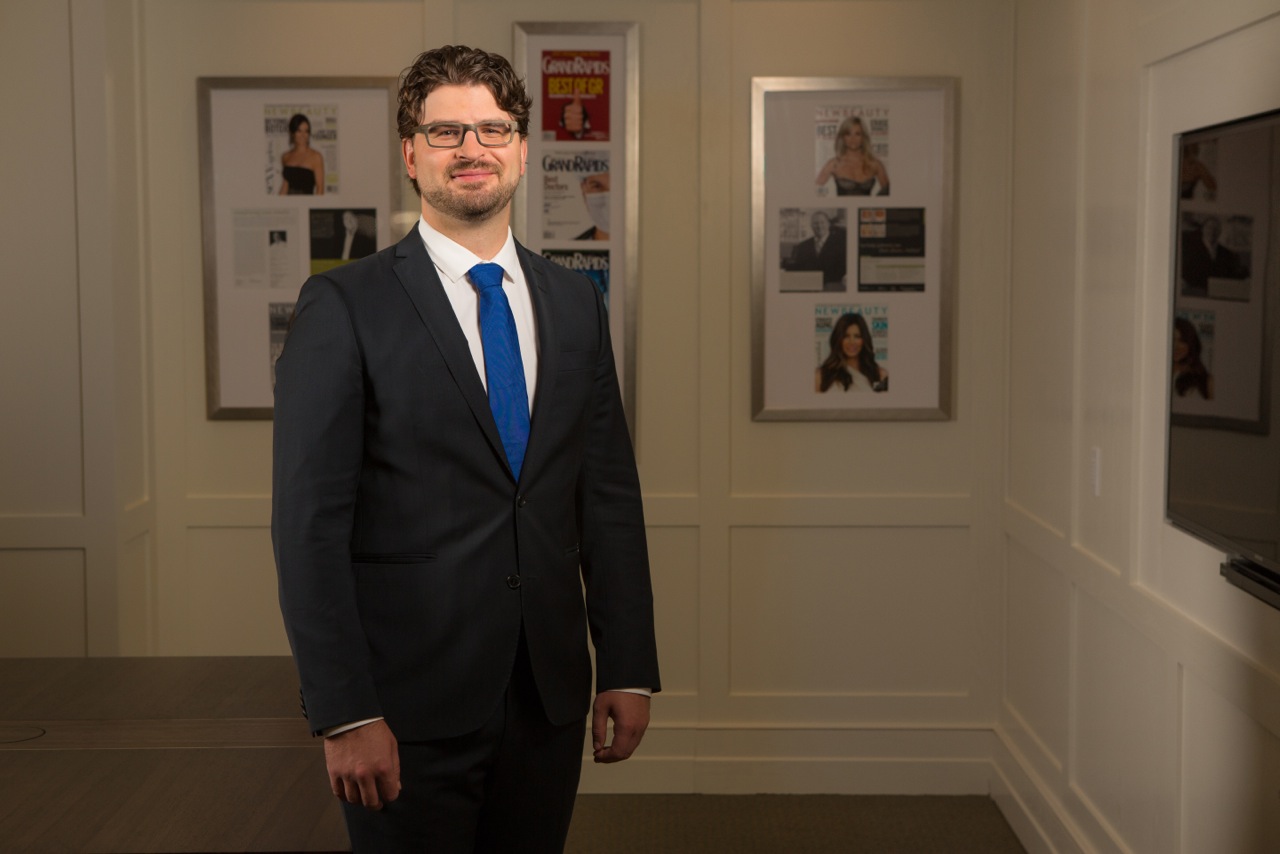 So, my Vertical Gastric Sleeve surgery date has been set for November 19! I'm excited and nervous all at the time time.
One of the biggest questions on my mind is, "What happens if I DO lose the weight I want, and end up with baggy skin?" Plastic surgery is on the mind of just about every weight loss surgery patient. So I jumped at the chance to interview a plastic surgeon in my area who specializes in reconstructive surgery following weight loss.
Dr. Mitchell is an up-and-coming leader in the research and study of Body Contouring and reconstructive surgery. He recently completed a prestigious Fellowship at the University of Pittsburgh Medical Center, where he specialized in procedures to treat the after-effects of post-bariatric surgery under the auspices of Dr. Peter Rubin. The majority of his patients have lost more than 100 pounds through both surgical and medical means, and were left with a significant quantity of excess skin around their faces, necks, upper arms, breasts, abdomens, buttocks and thighs.
"Patients who lose weight through medical means or following gastric bypass, sleeve or LAP-BAND surgery are more likely to keep off the weight and lead healthier lives following Body Contouring procedures," said Dr. Mitchell. "Making this surgery as an integral part of a patient's comprehensive weight loss program can lead to better long-term results and quality of life."
Below is a summary of the interview I conducted last week, armed with questions submitted by some of my fellow weight loss surgery friends.
Am I going to need plastic surgery?
"There's no guarantee, but it's highly likely that you will want plastic surgery. People are self conscious about looking different from people who are thin or heavy. There is no predictor as people lose weight differently. You are losing fat, which improves appearance, but weight loss does not improve skin or elasticity. It's not like shrinking a sweater in a dryer. It's more like deflating a balloon. However, fear of loose skin should not outweigh the health benefits of losing weight."
During weight loss, what can I do to minimize loose skin? For example, exercise, lifting weights, eating protein?
 "Unfortunately, nothing is going to help–at least not enough. Exercise and protein are important, but not for reasons related to skin."
At what point does one consider plastic surgery? What makes a good candidate? How can I be sure I have realistic expectations?
"It's important that the patient be one year out, at a stable weight for three months. I talk with everyone individually about what their goals are. It's hard not to be impressed with the outcome. Many people can't fit pants or other clothing correctly, and plastic surgery corrects that. The only reason someone wouldn't be a good candidate is if they have other health problems, or other risks, for example are a smoker."
Will insurance cover it?
"Probably not. Every insurance has very strict and different requirements. We work with insurance as much as possible though to see if we can get parts of the procedure covered."
What should I look for in a plastic surgeon?
"A feeling of comfort. Find someone who is familiar with the surgeries, and likes doing them. They should make you feel at ease."
Which is  feeling I definitely had when interviewing Dr. Mitchell! I feel a lot more knowledgeable after talking to him, and that's one less thing that's weighing on my mind. I look forward to starting this journey, and no longer fear the plastic surgery that I will likely need in the future.