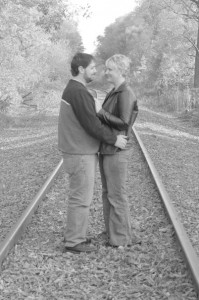 So how is the challenge going? Quite well. It's amazing how having a few backup meals and snacks on hand (in the form of Lean Cuisines and Skinny Cows) helps avoid takeout.
The camaraderie of the "Lean 11" has been awesome. We are always commenting on each other's blogs, are friends on myfitnesspal, and Twitter and the Collective Bias forums. It's so encouraging.
I've been doing well in terms of staying under calories, but haven't gotten as many workouts in as I'd have liked. Or cooked as much as I'd liked. I have to figure out how to do both in one night, plus keep up my blogs, plus work full time. Oh and keep the house clean. It's just crazy.
I didn't always used to be fat. Which is hard for people who have only met me within the past five years to imagine, I'm sure.
The photo at the beginning of the post is me and DH's engagement picture from about 5 years ago. In high school, I was always super skinny. I think I weighed 100 pounds. After college I was up to 120.  Then I married my first husband, and over the five years we were married I went up to 170 (too many grasshoppers, plus I sold Pampered Chef and every recipe included cream cheese, crescent rolls, and/or a boxed cake mix). I went on a cigarette and ramen noodle diet when my now ex husband (whom I'll call CB for now, short for Crazy Bastard who Left Me for a Crack Whore) started blowing all of our money on meth and who knows what, not paying our bills that's for sure. I also went on Weight Watchers (which was really easy when you don't have money to buy food). Long story short, I got back down to about 135. Then he disappeared and left me to deal with the foreclosure of our house. I managed to get through it. Surprisingly he still thought I was hot, just wanted to live with this crack whore he found instead of me because she let him play Playstation all day and not go to work. Hmm.
I picked up the pieces of my life and went on a single dating whirlwind, a newly single hot chick who had never dated as an adult. It was fun. I gained a little weight, not much. Then I met now DH. He wooed me with food and wine. I went on depo provera. I gained 70 pounds and then some during our engagement. Here's our wedding photo: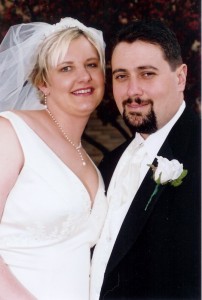 We did not have a long engagement (9 months). We both put on some weight, and over the past five years have yo-yoed together. This time, though, I'm determined it's the last. I am NOT a fat person on the inside. I've only been not skinny for the last 5 of my 33 years of life. It's time to get back to the person I am on the inside.
Disclosure: I am being compensated for the #31Days project by Collective Bias and Lean Cuisine/Skinny Cow. All opinions are my own.