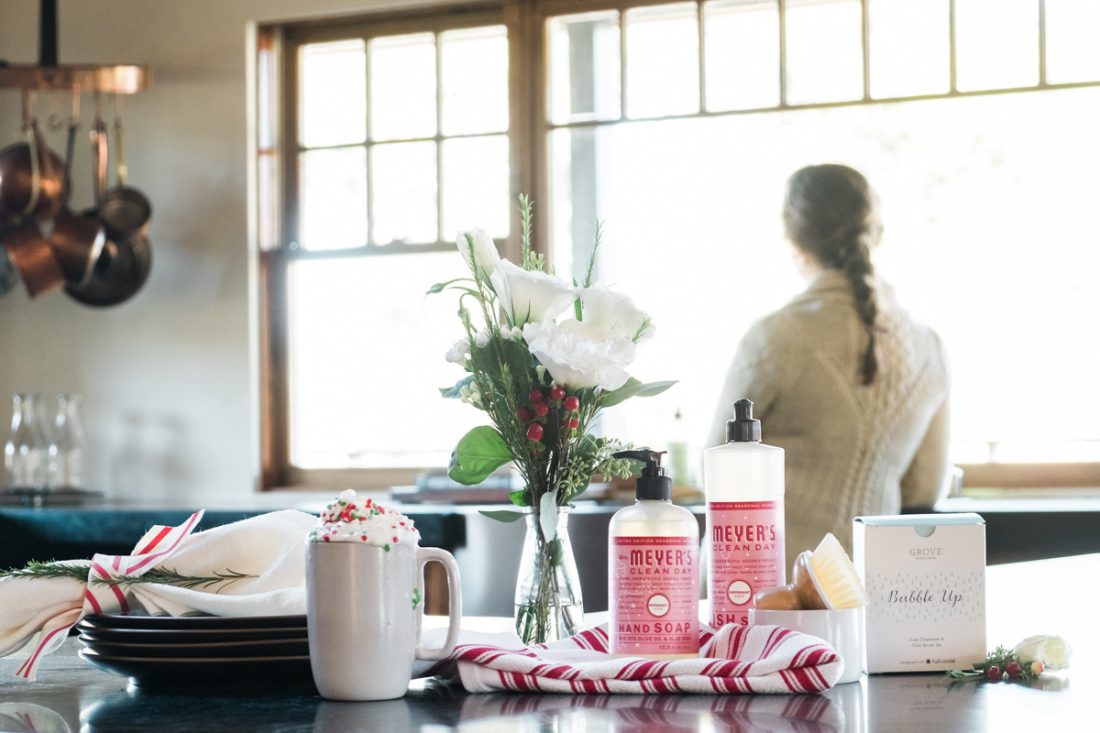 Holidays are a time for entertaining guests, but who wants to race around picking up toys and scrubbing floors just before the in-laws arrive? Luckily, I've got a few tricks up my sleeve to prep for guests effortlessly.
Scent is the first thing your guests will notice when they walk through the door, so the absolute easiest way to make it seem like you spent all day cleaning is with some fabulous smelling products. Start by snagging this free seasonal set of Mrs. Meyer's holiday soaps + Bubble Up soap dispenser + pretty kitchen towel [referral link] from Grove Collaborative! Then use these holiday cleaning tips & tricks  to make your house feel festive and party-ready.
Entryway
Roll out the welcome mat — literally! When your guest show up with muddy or snowy boots, a special mat feels inviting and keeps messes outside.

If your windows are covered in fingerprints and dog nose prints, how will you be able to see who's coming? Mix 1 cup of water, 1 cup of vinegar, and 1 drop of Mrs. Meyer's dish soap in a spray bottle. Spritz your windows, grab an old t-shirt or cloth diaper, and give them a quick wipe. (The dish soap helps prevent streaks, and the scent helps cover up the vinegar!)

In my fantasy life, the kids never leave their backpacks by the door and junk mail never piles up on the counter. Yours too? Make it a reality (momentarily) by stashing clutter in baskets or closets until after guests leave. I won't tell if you don't!
Kitchen
Turkey and pumpkin pie just taste better when they're baked in a clean oven. Skip the scrubbing and give your oven a quick steam bath: Fill a casserole dish with water and ½ cup of vinegar. Heat the oven to 350, let the water boil for 30 minutes, then let it cool down. Grab a paper towel and wipe the grease away.

While you're simmering the sauce for your famous lasagna, wash the pasta pot and colander. Washing as you go will keep dishes from piling up in the sink so you can actually focus on enjoying your party.

Squirt some Mrs. Meyer's dish soap down your garbage disposal and run it for 30 seconds to get rid of smells. The suds will clean your drain and spread the soap's scent around your kitchen.

The kids wanted to help bake, but now there's flour from one end of the kitchen to the other. Give your counters and appliances a quick wipedown with a damp microfiber cloth. I prefer the e-cloth from Grove Collaborative — it grabs dirt and germs like a magnet.
Bonus tip: Before the holidays are in full swing, stock up on essential cleaning supplies. Grove Collaborative delivers the best natural household products from Method, Mrs. Meyer's, Seventh Generation and more right to your door. Talk about a holiday cleaning hack!
Bathroom
Who doesn't love lathering up with a nice hand soap? Put out one of these Mrs. Meyer's holiday soaps and your guests won't be able to resist. I have the Peppermint scent in my bathroom right now!

Fluffy towels make your bathroom feel like a five-star hotel. Toss towels in the wash with ½ cup of vinegar to refresh and soften them up.

Don't have time for a full-on bathroom cleaning? Me either. Swish the toilet bowl with the brush and a splash of cola to make it sparkle. (Seriously!)

Keep Aunt Kathy from rummaging through your cupboards by leaving  extra toilet paper in sight. A pretty basket is a great place to stash a few rolls.

Don't forget to empty the trash can. It's an easy step, but it goes a long way toward making your house feel "clean".

Just before guests arrive, light a few candles and flip off the light for instant ambiance. Candles add warmth, coziness, and cover up any less-than-fresh smells — plus they give off just enough light for guests to find your light switch in the dark.
Living room
Spritz couches and upholstery with a deodorizing room spray.  I love Mrs. Meyer's room spray — it smells like I just cleaned the whole house!

It's tempting to wait until after the party to clean crumbs off your carpet, but a quick vacuum beforehand will make your house look polished. Sprinkle your carpet with baking soda before vacuuming to deodorize and revive the carpet fibers. I also keep a basket of socks and cozy slippers by the door to encourage guests to take their shoes off.

Your friends love Fido, but they don't love having his fur stuck to their black pants! Put on a damp rubber glove and rub it across your couch. The fur will stick to the glove until you rinse it off.
Don't forget, this offer from Grove Collaborative ends November 21 so grab your free Holiday Set now! [click here to learn more]