This past week I really slacked off in the running department during the week. I was just SO BUSY with everything else going on. Work was crazy busy and it's a busy season for my blog. However, I am very proud that I finished my very first 20 mile run! And not only was it the longest run ever, it was the HILLIEST run ever.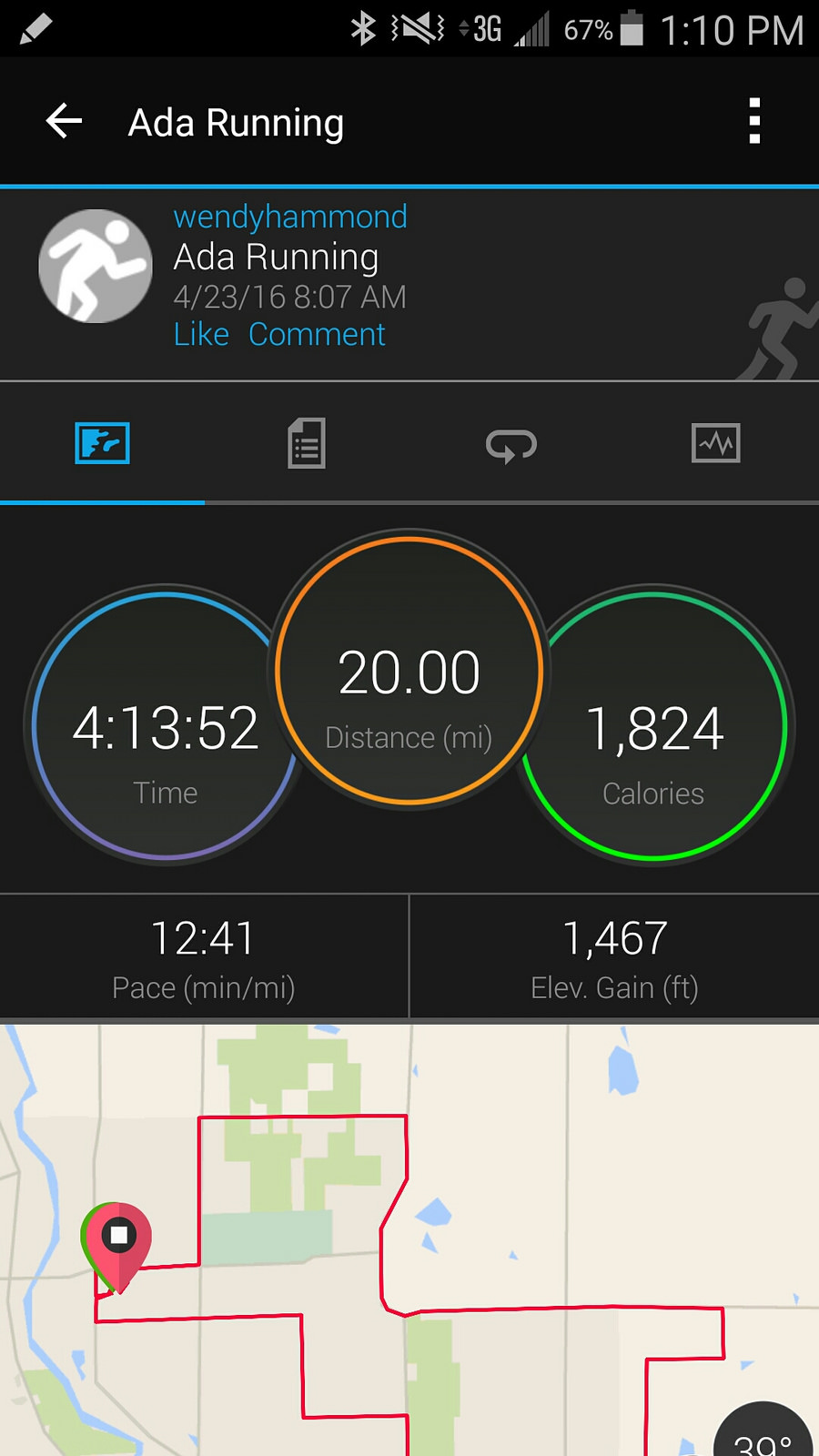 In addition to the 1,467 elevation gain, much of this was on dirt roads, which was easier on the joints but took more footwork than I'm used to.
Needless to say I was exhausted by the time I was finished. I slept most of Saturday. Then on Sunday I got up at 3:30 AM to go turkey hunting with my Dad. We did not harvest any but we had fun watching hens dusting themselves.

Two gobblers escaped with their lives. And nature was beautiful as always. It's so fascinating to be able to call to turkeys and have them respond. Sometimes birds and squirrels respond to the calls, too. The property on which we hunt has been in our family for years, and it is hilly. So my legs did protest hiking back to the blind, but at the same time it felt good to give them a stretch. We will see how this week's runs go.
Last week's stats:
Monday: 4,093 steps
Tuesday: 2,999 steps
Wednesday: 9,873 steps (ran 4 miles)
Thursday: 4,990 steps
Friday: 5,800 steps
Saturday: 42,316 steps (ran 20 miles)
Sunday: 7,715 steps
On the schedule for this week:
Monday: Lularoe party
Tuesday: Run 6
Wednesday: Run 6
Thursday: Run 8
Saturday: Run 12
Sunday: Turkey hunting and hunger walk
How was your week? What are you looking forward to this coming week?
This post shared with The Weekly Wrap