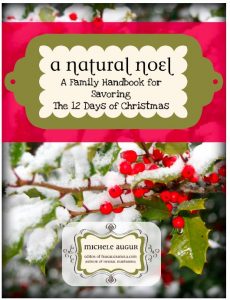 After writing today's post in the Simple Living series, I decided to practice what I preach and take a blogging break. Next week I'm taking a vacation from my 8-5 job (and will be trying really hard to ignore the emails on my Blackberry!) and so I decided that now would be a good time to take a break from posting. Don't worry, I'll be back Monday Dec. 27.
I'm also going to try to stay off Twitter, and maybe FaceBook. OK, I doubt I'll be able to give up FaceBook.
Before I sign off for a few days, I did want to let you know about this e-book I recently discovered by Frugal Granola called A Natural Noel: A Family Handbook to Savoring the 12 Days of Christmas. She let me take a peek at it and I was delighted to discover that she has devotions and family activities to help learn about the 12 Days of Christmas (which actually starts on Christmas and goes to Epiphany).  Just Click here to visit Frugal Granola, pay $6.95 (of which I'll get a small commission), download the ebook, and you'll be able to entertain your own kids or those of your neighbors while they're home from school. She has some sample pages on her site so you can learn more by just clicking over there.
Merry Christmas!