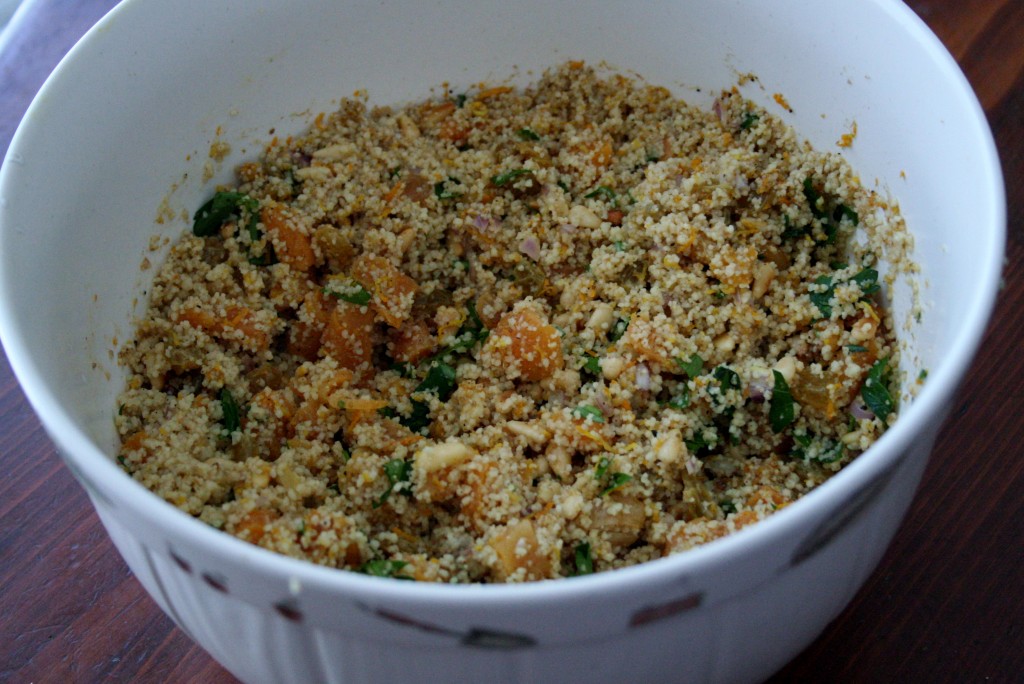 This is a favorite citrus-y salad to brighten up winter meals.
FOR PRINTABLE VERSION CLICK HERE: Golden Couscous with Pine Nuts
Source: P. Allen Smith's Seasonal Recipes from the Garden
1 cup whole wheat couscous
3/4 cup dried apricots (chopped)
3/4 cup golden raisins
2 shallots (finely chopped)
1 1/2 Tbs ground cumin
1 1/2 tsp ground coriander
1 1/2 tsp salt
1/2 tsp pepper (freshly ground)
2 cups boiling water
2 oranges (zest and juice)
2/3 cup pine nuts (toasted)
1/2 cup parsley (chopped)
1. Place couscous, apricots, raisins, shallots, spices, salt and pepper in a heatproof bowl and mix well.
2. Add enough boiling water to the orange juice to equal 2 1/2 cups and pour this over the couscous; mix; stir in orange peel; let sit for 10-15 minutes.
3. Stir in toasted pine nuts and parsley and serve.
4. Note: Can be served chilled, warm, or at room temperature.
Servings: 12
The Verdict: This salad smelled wonderful when I was making it, and before I served it, but it ended up being a bit strong in the spices department; even for my family who loves flavor and spices! I think what happened is I didn't have any ground cumin or coriander on hand, so I ended up grinding the spices right before I used them – I should have known that they would be more powerful that way. Just a fair warning should you decide to make this for yourself! Ironically, my mom made chicken tater tot casserole, and it was actually quite good mixed together.
Nutrition Facts
Serving size: 1/12 of a recipe (6.2 ounces).
Percent daily values based on the Reference Daily Intake (RDI) for a 2000 calorie diet.
Nutrition information calculated from recipe ingredients.
Amount Per Serving
Calories 220.45
Calories From Fat (22%) 47.53
% Daily Value
Total Fat 5.68g 9%
Saturated Fat 0.44g 2%
Cholesterol 0mg 0%
Sodium 306.59mg 13%
Potassium 534.77mg 15%
Total Carbohydrates 40.31g 13%
Fiber 3.43g 14%
Sugar 10.01g
Protein 5.69g 11%
This post shared at Tasty Tuesday