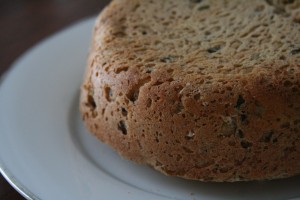 As I think I mentioned, I'm seeing a holistic health practitioner who had me on a "detox" for two weeks in which I was supposed to avoid caffeine, alcohol, and sugar as much as possible and limit grains to one serving per day. How did it go?
As my doctor had predicted, I didn't follow the guidelines perfectly, but my food log was miles ahead of what it had been before. I was actually down a couple of pounds, but traveled the last two days and am bloated from all the salt which seems unavoidable when eating on the road. So weight loss – check, but not sure how much.
My energy was through the roof. I found myself cleaning around 9 PM last weekend, and DH was shocked. Normally I am so ready for bed by 9 and am tired throughout the day. I'm also feeling a lot better in general and a lot more regular.
I found it difficult to go without grains, as was evidenced by my food log. My doctor said, "I'm going to make your life a lot more difficult. Sorry about that. But I think you are sensitive to gluten." Now, even if one doesn't put much stock in nutrition response testing, going gluten-free is sort of trendy right now. So I'm going to give it a try.
Sigh.
But you know what? If it makes me feel even better than I do right now, I'm willing to give it a go. Am I going to do it perfectly? No. But I discovered that even going mostly caffeine and sugar free has done wonders. So I might as well see how this works out.