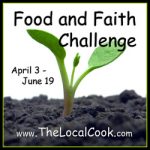 Happy Easter! We serve a risen Savior, who is in the world today. And as we think about what it means to serve Him, we begin the very first week of the Food & Faith Challenge.
Each week we'll begin by reading a passage from the Bible. Normally I prefer The Message, because I think it is more accessible to people new to the Bible, and for those who are very familiar with the Bible it can provide a fresh perspective. (If you'd like an easy way to look up your favorite translation, check out www.biblegateway.net) For this week, though, I prefer the NIV version because it keeps the imagery of vines and fig trees.
Micah 4
1 In the last days
the mountain of the LORD's temple will be established
as chief among the mountains;
it will be raised above the hills,
and peoples will stream to it.
2 Many nations will come and say,
"Come, let us go up to the mountain of the LORD,
to the house of the God of Jacob.
He will teach us his ways,
so that we may walk in his paths."
The law will go out from Zion,
the word of the LORD from Jerusalem.
3 He will judge between many peoples
and will settle disputes for strong nations far and wide.
They will beat their swords into plowshares
and their spears into pruning hooks.
Nation will not take up sword against nation,
nor will they train for war anymore.
4 Every man will sit under his own vine
and under his own fig tree,
and no one will make them afraid,
for the LORD Almighty has spoken.
5 All the nations may walk
in the name of their gods;
we will walk in the name of the LORD
our God for ever and ever.
Isn't that a great image of peace?
"Having access to one's own source of food and drink was, as it is today, a great source of security. Yet the image of every person with a vine or fig tree is not one solely of self-reliance. Vineyards and trees, more than other crops, require years and even decades to reach their full potential. Wars, which destroy homes and scatter families, and the threat of war make such long-term investments in a piece of land impossible. In addition, in order for everyone to have the ability to grow food, a community must share its resources—water, suitable soil, etc.—equitably. As it is today, an ideal food system is linked both symbolically and literally to much larger international and local relationships." (Simply in Season Leader's Study Guide, page 8 )
Readings from Simply in Season:
"Increasing insecurity about food security" (2005 p. 286 / 2009 p. 300)
"Shortening the food chain" (2005 p. 187 / 2009 p. 196
When we think about how we get our food, the reliance on agribusiness and transportation, we begin to get an idea that maybe our food system isn't build on a solid foundation.  The readings from Simply in Season introduce the idea of a food chain. Take, for example, a tomato.
If you buy a tomato from a grocery store, the food chain could look like this:
People who provide the grower with seeds, fertilizer, other inputs > owners of the farm > migrant workers who pick the tomato > truck driver who transports the tomato > grocery store owners and workers > consumer.
If you buy a tomato from a farmer's market, the food chain could look like this:
People who provide the grower with seeds, fertilizer, other inputs > grower > stand worker > consumer
If you grow your own tomatoes, with saved seeds without chemicals, the food chain could look like this:
Grower > consumer
Think of all that could go wrong in each step of the food chain, and shortening it seems like a good idea! For an even scarier picture, click here and see a visual of California's Disaster Preparedness plan around food security (scroll to the bottom of the page to the colorful chart)
Questions for Reflection (share your responses below for any one of these for an entry in this week's drawing)
Describe a concern you may have about our current food chain.
List the world problems that seem the most overwhelming. How close are we to Micah's description of a world in which God's love and justice rule and we are well fed, both physically and spiritually? What are the characteristics of such a world?
Challenge to Action (post on your blog and add a link below to the specific post about this challenge or email me before Friday to be included in the round up post and for an additional entry into this week's drawing). Choose from one of the following:
At your usual grocery store, see if you can find information about where the produce is grown. Then check out meat, milk, and eggs. Is any of it local?
Visit your local farmer's market and let us know what's in season right now. If your farmer's market isn't open yet, when does it open and what kinds of things are available from it?
Other ideas you can use for this challenge can be found in Simply in Season (2005 p. 334 / 2009 p. 350)
This week's drawing:
This week we will be doing a random drawing for a $15 gift card to localharvest.org. It's a great website to help you find local food resources. Remember, you can earn up to two entries each week. One for commenting about a reflection question, and one for doing one of the challenges to action.
this post linked to Fight Back Friday