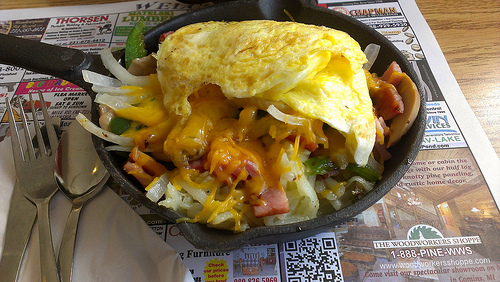 Bear with me, this post is a bit rambly 🙂
Over the past few months, I've been posting less frequently. I've been trying to figure out where I fit in the food blogger spectrum, and more than once thought about just quitting the whole thing. I'm not really a "real food" blogger, since I don't do the sourdough and fermenting thing.
I'm not a frugal blogger, since I don't really pay attention to what the ingredients cost.
I'm not a gourmet blogger, since most of my recipes are pretty simple. But nor do I take the "add a can of this and a box of that" route.
Simple, in season, and locally sourced best describes the blog, but I've been having a hard time getting inspired. Until recently.
A couple of weeks ago DH and I took a motorcycle trip around Northern Michigan. We had a blast stopping at little roadside diners, the kinds of places where everyone looked at us not because we were wearing our motorcycle gear but because we weren't from there. Where else can you get homemade strawberry jam with your toast? One of the places we stopped for lunch was called Leg's Inn, a Polish restaurant at the end of the Tunnel of Trees. I was reminded of our immigrant history in the Midwest.
Last week Friday I attended an immigration workshop. Part of the workshop was seeing a large timeline of immigration in the United States. Everyone was encouraged to draw a picture of when their forefathers came to America. Mine was a crudely drawn boat in the late 1800s. My great-grandfather came over from the Netherlands in 1893. Many people in this area of Washington where the workshop was being held had come from Mexico; I reflected on the diner we stopped at for breakfast – my fellow Dutch immigrant descendants and I were delighted to discover chorizo and eggs on the menu.
Earlier this week a coworker of mine from Honduras and I had a meeting at Dutch Mothers, a restaurant in Lynden, WA. Although my forefathers and mothers are from the Netherlands, the only Dutch things my mom makes any more is banket for Christmas. I decided to get a taste of my culinary heritage and ordered the Dutch lunch plate – split pea soup, cabbage, and a ham and gouda sandwich on a raisin roll.
Later that day my Honduran coworker and I had dinner at a Thai restaurant and I asked her what she thought of the food in the U.S. She replied that it was different than she thought–that she thought we just ate hamburgers. In reality, though, America's food reflects the melting pot of the immigration waves over the years.
On the last day of our trip I went to a couple of antique stores and found a 1965 copy of the Fannie Farmer cookbook, complete with notes scribbled in the margins and kitchen splatters. It was then that I knew . . . I'd like to focus this blog more on cooking recipes from our history. Ironically, many of these recipes use local ingredients (it's what they had) and are making a comeback.
With this new inspiration, I know I will still not be posting as frequently as I once did. That's OK. And I'll still post some random thoughts here and there (otherwise, what is the fun in having a blog?)
One thing I'd love your help with – if you have a favorite family recipe that has special meaning to you, I'd love to share it here at The Local Cook. Email me at wendy (at) thelocalcook (dot) com and we can work together on making a post.