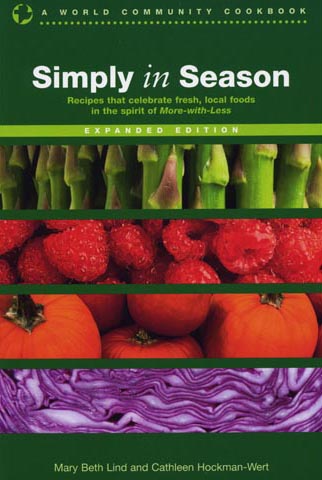 I was recently contacted by MennoMedia, who invited me to be on an advisory panel for a new edition of Simply in Season!
My love for Simply in Season goes deep. I actually started this blog because I had decided to cook through Simply in Season as a way to use up my CSA share and learn how to cook with local vegetables. I know many of my readers also love Simply in Season (many arrive searching for photos of recipes in the cookbook. You will be happy to know that the 2015 edition will include some pictures!)
"But it's more than the recipes that keep me coming back. It's the philosophy and the care that the authors, Mary Beth Lind and Cathleen Hockman-Wert, put into the shaping of the cookbook. It set the tone for my lifestyle and how I cook. It got me in touch with what is growing and when." — Avery Peters, project manager for revised Simply in Season
If you are a fellow Simply in Season lover, please take a survey that MennoMedia is using to help decide which recipes should be included in the new edition. You can find the survey link and more information about the new edition over at the MennoBytes Blog.
For all those who fill out the survey, you will receive a special 30 percent discount code on the revised edition that will be coming out in Spring 2015. Please fill out this survey out by MAY 2, 2014. You will also be entered into a drawing to win one of three gifts related to seasonal foods.
Disclosure: This post is not sponsored in any way. I just love the book!!!