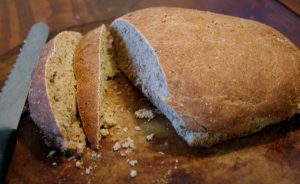 This is one of the recipes I made on my big bread-making day last week. I thought it sounded kind of odd, but the flavors really worked well together.
This recipe is from Whole Grain Breads by Machine or Hand: 200 Delicious, Healthful, Simple Recipes. I'm still trying to decide if I like the book, as the results have been somewhat uneven – although that might be due to operator error.  I feel I have much to learn in the area of bread-baking. That said, its reviews on Amazon show I am not the only one who feels it doesn't rise and needs more water than specified. In the future I think I'll add a bit more yeast.
Ingredients:
1 cup flat, dark beer (I used a cup of DH's stout)
1 1/2 Tbsp vegetable oil
2 Tbsp Dijon mustard
2 Tbsp sugar
1 tsp salt
1 tsp dried thyme
1/2 C rye flour
2 1/2 C bread flour
1 1/2 tsp active dry yeast
Directions:
Warm beer to 105-115F; add yeast to warmed bowl, mix well and let stand for 5 minutes.
Add all remaining ingredients except the bread f lour; mix well and let rest for 15 minutes.
Add remaining bread flour (might want to go easy on this, use your own judgement) and mix until it pulls from the side of the mixer and is smooth and elastic. Cover and let rise until doubled (about an hour).  Punch down, shape into a free form loaf, and let rise again (about another hour).
Bake in preheated 375F oven for 35-45 minutes, until a wooden skewer inserted in the middle comes out clean and dry.
The Verdict: With the adjustments mentioned, this loaf didn't rise as much as I thought it would but the texture was just fine, and the flavor spectacular. I fed it to the boys on brew day and it was gobbled right up.
For more bread recipes, check out Yeastspotting. This post also shared at Ultimate Recipe Swap