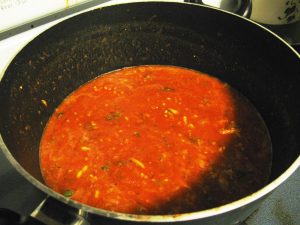 A super easy pasta sauce that you can either can or freeze.
FOR PRINTABLE VERSION CLICK HERE: Basic Tomato Sauce
Source: Simply in Season.
Ingredients
1 onion (chopped)
2 cloves garlic (minced)
2 carrots (shredded)
1/2 green pepper (chopped)
2 bay leaves
1/4 cup fresh parsley (chopped)
2 Tbs fresh basil (chopped; Note: If you don't have fresh herbs, use dried but cut the measurement in half)
1 Tbs fresh oregano (chopped)
1 Tbs fresh thyme (chopped)
6 cups plum tomatoes (peeled and chopped)
6 ounces tomato paste
1 Tbs honey (I didn't use this)
salt and pepper to taste
Instructions
Saute' onion and garlic in 2 T olive oil until soft.
Add carrots, pepper, bay leaves, and herbs and stir well.
Add remaining ingredients and season to taste. Simmer 15 minutes. Remove bay leaf and serve or freeze.
To can, ladle into hot sterilized pint jars to within 1/2 inch of top, and add 1 T lemon juice or vinegar per pint. Seal with sterilized lids, and process full jars in boiling water bath for 35 minutes.
http://wholisticwoman.com/basic-tomato-sauce/
The Verdict: This is a marinara-style sauce that is relatively easy (it doesn't take a TON of tomatoes or cooking time). The fresh herbs are heavenly.
Nutrition Facts
Serving size: 1/9 of a recipe (6.5 ounces).
Percent daily values based on the Reference Daily Intake (RDI) for a 2000 calorie diet.
Nutrition information calculated from recipe ingredients.
Amount Per Serving
Calories 65.87
Calories From Fat (7%) 4.6
% Daily Value
Total Fat 0.55g <1%
Saturated Fat 0.1g <1%
Cholesterol 0mg 0%
Sodium 170.36mg 7%
Potassium 628.45mg 18%
Total Carbohydrates 15.21g 5%
Fiber 3.99g 16%
Sugar 9.06g
Protein 2.61g 5%
This recipe also shared with Real Food Wednesday, Ultimate Recipe Swap, Frugal Friday