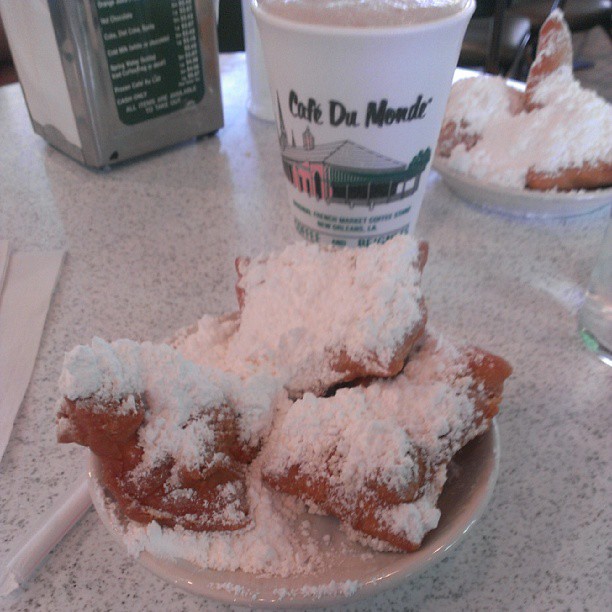 I posted about the bayou tour, but what I loved almost as much about my trip to New Orleans was the food.
Everyone on facebook insisted that I have beignets and coffee at Cafe Du Monde. So my friend and I took the streetcar from the hotel, hopped off, and found the madhouse that was Cafe Du Monde. We were miraculously able to find a seat. As it was 90 degrees out and humid to boot, I ended up getting an iced au lait to go with it.
I'm not sure what I was expecting, but it was pretty much a doughnut with a pound of powdered sugar on it. A very tasty lunch to be sure. We decided that every culture has fried dough rolled in sugar. The Dutch ladies at my church would make olibollen for the Christmas bazaar. I've had churros in Tijuana. Our local orchards in Michigan produce the best doughnuts and cider. And, no trip to Canada is complete without Tim Horton's Canadian maple doughnut.
Most of our meals were at the Hyatt Regency as we didn't have much time at the conference for meal breaks. Incidentally, the hotel is very clean and there is a TON to do and see. We ended up eating at the Vitascope most of the time. On our last night, however, we scoured Yelp for ideas. Unfortunately a common theme was "overpriced."
So, my friend talked to an elderly man at the concierge desk. We inquired about good food and jazz. He said there weren't nearly as many choices as they used to be because the tourists all want rap and karaoke. Eek!
He suggested Little Gem Saloon, a little place that usually has live music but for some reason didn't that night. That was OK. The food was delicious, and the waitstaff were very friendly and helpful.
At the waitress' suggestion we took the streetcar to Bourbon Street but walked down Royal Street instead.
I loved seeing the historic homes.
Of course, we had to check out Bourbon Street just to say we did. We only lasted a couple of blocks. The smell of vomit was quite overpowering and we had no interest in drinking to excess.
We asked around to try to find a non smoky bar with no cover charge, and ended up at Irvin Mayfield's Jazz Playhouse. I had a cucumber basil margarita – super tasty!
We agreed that it was the right way to do New Orleans. Great food, great music, and a great atmosphere. We managed to not step in vomit and we only saw 3/4 of a boob. I highly recommend it.