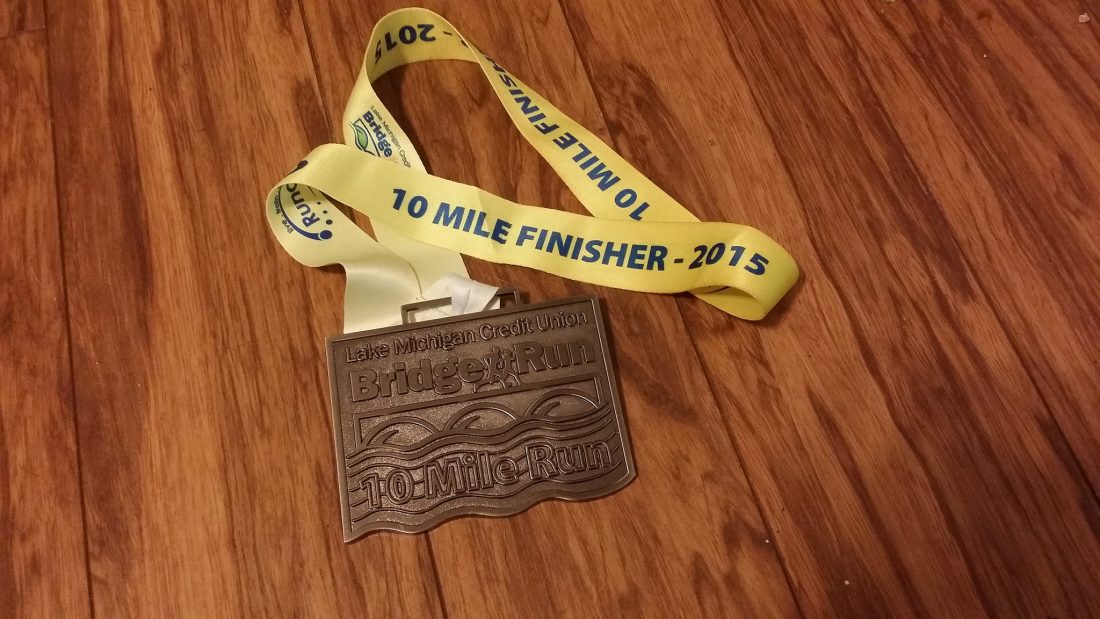 Marathon training continues to go well. I have a few issues with blisters on my toes that I need to work out, but overall I've been able to maintain the training schedule and feel great.
Over the weekend I did the Lake Michigan Credit Union Bridge Run which is 10 miles. I was looking forward to it until I happened to look on the website and notice that there was a 12 minute per mile cutoff time! I have been running 13-14 minutes per mile on my long runs, so I was quite worried. Luckily I emailed the race organizer and they assured me that they would stay open for the last runner.
However, I now had my goal. I was determined to Run a 12 minute pace. DH has been saying that I could probably run faster than I have been. I suspected he was right, as I tend to let my mind wander when I run. I went out and bought a new Garmin Forerunner so I could keep better tabs on my pace.
Race day came and it was beautiful! 60 degrees or so. I lined up at the very back of the pack and turned on my music. When we took off, I found myself swept up in the crowd but tried not to overdo it. After about half a mile I felt like it was too hard to run that slow so I started passing a few people.
Around mile 5 people started slowing down and stopping to walk. I still had lots of energy left and was miraculously just under 12 minutes per mile! I smiled and enjoyed the scenery.
When I got to the end of the race, DH was there to give me my medal. It was huge and gorgeous.
I was so proud of myself to finish at the best time I have ever run. It made me realize that speed is all in our minds. I wonder, what else have I just assumed I couldn't do, but maybe I could have if I'd just believed in myself and set a goal?
This running is a great life lesson teacher.
Below is a Periscope recap. Feel free to follow me @wholistic_woman !