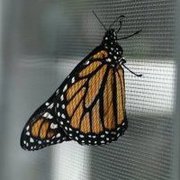 No weight loss to report this week. Instead I have some musings on vitamins, supplements, and other stuff.
This post is a little late, but I have a good excuse. I decided to take a little time for myself over the weekend. I spent most of Saturday taking my friend's four-year-old daughter to the butterfly exhibit at our local gardens. On Sunday DH and I went to church and then to a new brewery in town. It was a good weekend.
I found myself reading about detoxes (you can't pick up a magazine nowadays without reading about the "detoxing spring vegetables.") Also looking forward to an appointment that I have tomorrow at a Natural Healing Center. I bought a Seize the Deal coupon and am going mostly for the hour-long massage for only $30. It also includes a weight loss consultation, and from the reviews it looks like they'll try to sell me lots of herbal supplements. Oh well, at least I'll get the massage.
I'm not sure I believe that herbal supplements can really help me lose weight. I've taken Herbalife over the past year or so but the results weren't so dramatic that I was like "yes! This is definitely working!" When I saw a nutritionist a few years ago, her advice was to take B12 and eat as many vegetables as possible to as to get the nutrition from food not pills.
I've felt a bit in need of a cleanse lately though (probably all the fast food). So I hope to figure out a way to get back into eating clean pronto. As for vitamins, I was asked by Collective Bias to try the Vitamin Finder at Meijer. You can read about it here:
Or take it yourself here: http://www.meijer.com/content/content.jsp?pageName=vitamin_finder
It basically told me to take a multivitamin and Co Q-10. I already take a multivitamin with B12 so I decided to get the Co Q-10 and see if that makes any difference.
I'll keep you posted on what the "natural" place tells me tomorrow!
What, if any, vitamins or supplements do you take?
Disclosure: This shop has been compensated as part of a social shopper insights study for Collective Bias. All opinions are my own.