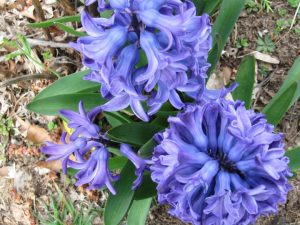 We have put our snow blower away and brought our motorcycles out of storage. Is it FINALLY spring?
In the spirit of  yesterday's post on being present, here are the things about spring that bring me joy:
Rhubarb – reminds me of my Grandma's house. We would pick and eat it out of the yard after church.
Asparagus – my dad grows this in his garden and I love the first few spears of the year.
Morels – it has been years since I hunted these with my parents, but maybe this year . . .
Flowers – first the weird little spring flowers in the yard, then the daffodils.
Farmer's Market Opening – I usually don't go the first day because I dislike crowds, but I do love the first fresh greens!
Gardening – cleaning out the garden, weeding, and seeding are so relaxing in the spring. Not so much by the end of the season.
My Italian Greyhounds will finally go outside without whimpering.
Biking and running – I have a gym membership but being outside is so much more nourishing to the soul.
The brief window in Michigan where there is no road construction.
What are yours?