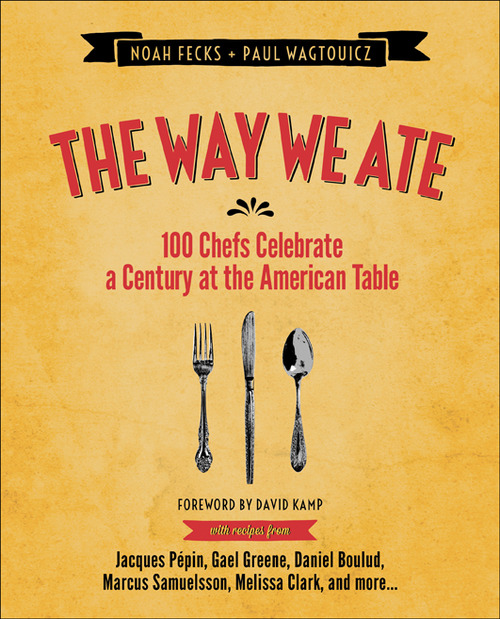 Another book review! I've been spending lots of time on airplanes the past few weeks, and I finally got around to checking out The Way We Ate. This is another book-from-a-blog.
About their blog, in their own words:
Noah Fecks and Paul Wagtouicz are photographers and authors in New York City who share a desire to re-create, cook and capture some of the best recipes of the 20th Century that they either missed the first time around, or want to relive in their own kitchens.

Every week they select and prepare, guided by the season, 2-5 recipes from a single issue of Gourmet magazine.  Their photographs, alongside favorite advertisements from the issue and other bits of historical context, offer a glimpse of their wonder and pleasure in the entire experience.  With an emphasis on whole ingredients and unaltered foods, they're going to eat their way through all 815 issues.
I love the concept! It's so interesting to see how food trends change over the years. Their website is kind of hard to navigate (for example, I wanted to see if they posted any recipes from the year I was born – 1977 – and the search function brought me nowhere. I'm thinking it's because it's a tumblr platform. I finally just did a Google search and came up with an advertisement for a woody wagon and a recipe for rutabaga and carrot soup.
For the book, they asked their foodie chefs and friends to create  a recipe in the spirit of a particular year. It wasn't necessarily a recipe from that particular year, but how it's connected is explained in introductory notes. I also think some of the chefs are supposed to be famous, but since I really don't follow chefs that much I sort of skipped over the recipe's author bio notes. I mostly enjoyed looking at the gorgeous food photos and reading the introductory note about that era.
Here is the official promo copy for the book:
The Way We Ate captures the twentieth century through the food we've shared and prepared. Noah Fecks and Paul Wagtouicz (creators of the hugely popular blog The Way We Ate) are your guides to a dazzling display of culinary impressionism: For each year from 1901 to 2000, they invite a well-known chef or food connoisseur to translate the essence or idea of a historical event into a beautifully realized dish or cocktail. The result is an eclectic array of modern takes and memorable classics, featuring original recipes conjured by culinary notables.
If you are a hard core foodie you have probably heard of the contributors (and probably the blog, actually). If you, like me, have never heard of any of the contributors or the blog, it's still a fun read. There were a couple of recipes I might be interested in trying (some desserts, cocktails, and stews) but many of them were things I wouldn't even attempt (I don't cook with foie gras, caviar, or lobster, for example).
Has it earned a place on my permanent bookshelf? Nope. But if you can borrow one or if you like to share books with a book club (I'm always trading foodie books with my Slow Food friends) I definitely recommend checking it out.