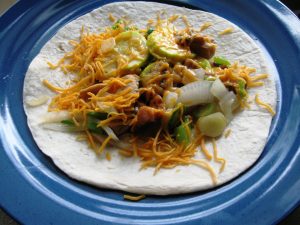 This recipe is very loosely based on the one in Simply in Season. I didn't want to turn on the stove, so I made it in a skillet and then stuck it in the microwave to melt the cheese. Here's my "cheater" version:
Ingredients:
1/2 onion (chopped)
1 clove garlic (minced)
4 oz mushrooms (sliced; I used dried mushrooms which I rehydrated by covering with water and microwaving for two minutes)
2 carrots (chopped)
1 zucchini or summer squash (chopped)
1 green or red sweet pepper (thinly sliced)
tortillas
cheese
salsa
In a large frying pan or skillet, put the onions and garlic. Then chop the ingredients and add to the pan in the order listed. Saute' until they're tender but not mushy.
Sandwich the filling plus cheese between two tortillas, then either microwave or fry to melt the cheese. Top with additional cheese, sour cream, salsa, etc.
The Verdict: The vegetables went surprisingly well together – loved the mushrooms and summer squash combination. DH added chicken to his (of course). I think it tasted just as good as if I had stacked them and baked them as the original instructions required – but this went together a lot faster, and DH and I were able to regulate how much of each thing we got in our quesadillas.
For more recipes check out Real Food Wednesday, Pennywise Platter Thursday, Things I Love Thursday, and Simple Lives Thursday