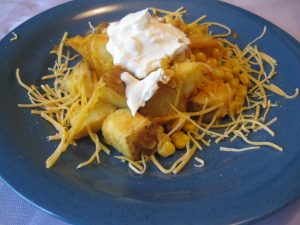 This is one of those recipes I looked at and said, "What is THAT doing in the main dish section?" But then, I've been surprised before at the recipes in Simply in Season; sometimes vegetables are much more hearty than I give them credit for. So I made it when DH was at running group and figured he can add his chicken later.
FOR A PRINTABLE VERSION CLICK HERE: Southwestern Potatoes

4 cups potatoes, chopped
2 Tbs butter
1 cup corn
green chili peppers, chopped
1 tsp chili powder
1/4 tsp salt
1 cup Cheddar cheese, grated
1. Cook potatoes in boiling water 5-10 minutes or until done, drain, and set aside.
2. Melt butter over low heat, add the rest of the ingredients, mix in potatoes, and cook until heated through, about 3 minutes.
3. Add cheese. And sour cream.  I added to the original recipe 🙂
The verdict: Very filling, and totally addictive when served with cheese and sour cream. I could see multiple variations on this recipe–the addition of black beans, for example. The diced chiles weren't overpowering at all, and I used about half of one of those little cans.
Nutrition Facts
Serving size: 1/4 of a recipe (5.3 ounces).
Percent daily values based on the Reference Daily Intake (RDI) for a 2000 calorie diet.
Nutrition information calculated from recipe ingredients.
Amount Per Serving
Calories 347.95
Calories From Fat (39%) 134.8
% Daily Value
Total Fat 15.33g 24%
Saturated Fat 9.65g 48%
Cholesterol 44.93mg 15%
Sodium 363.64mg 15%
Potassium 366.59mg 10%
Total Carbohydrates 43.36g 14%
Fiber 2.28g 9%
Sugar 0.78g
Protein 8.82g 18%
This post linked to Grocery Cart Challenge and Friday Food