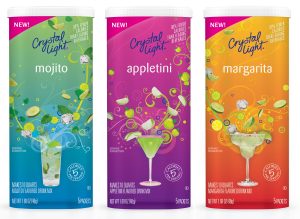 As you know, weight is a constant struggle for me. Lots of times I do great during the week, but when the weekend comes we spend time with friends, go out to eat, and have lots of local alcoholic beverages. So I decided to give Crystal Light Mocktails a try.
I figured hey, it could be an alternative. At least I can be drinking something other than bottled water or calorie-laden beer around the campfire. They're limited edition and come in three fun flavors : Margarita, Mojito and Appletini. I was sent the Mojito and Appletini to try. They are are available in multi-serve canisters with five 2-quart packets so they would be great for a party.
The mocktails contain just 5 calories and 0 carbohydrates per 8 fl. oz. serving (as compared to, say, 150-200 per glass of wine or beer). I was disappointed when I realized it has aspartame in it though. The Pure Fitness drinks that Crystal Light makes are sweetened with real sugar and Truvia. So while the mocktails are probably better than alcohol, they definitely aren't "healthy."
The Verdict: Of course you are all wondering how it tastes. I love Mojitos. And this definitely did not taste like a Mojito. But, it wasn't bad. DH suggested adding vodka and mint leaves to it (which would sort of defeat the purpose of an alcohol alternative drink). I could sort of taste the aspartame. I tried to tell myself it was like a cheap vodka aftertaste. The minty limey flavor was refreshing though, and we drank the pitcher over the course of an evening. I also tried the Appletini, and it was almost too apple-y, and again with the overly sweet aspartame. Please, Crystal Light, switch to real sugar and/or stevia!
Note: I posted yesterday on Crystal Light's Facebook Page asking them to consider switching all their products to sugar/stevia. I found it interesting that someone dissed me right off the bad, saying I shouldn't whine on the page. What do you think, was I in the wrong? Are Facebook pages only for saying good things? I wasn't badmouthing the brand, I DO like their Pure product, and I'd like their other products better without the aspartame aftertaste/health concerns. What do you think?
I was compensated for my time for sharing this information as part of the Crystal Light campaign hosted by One2One Network.  All opinions are my own.