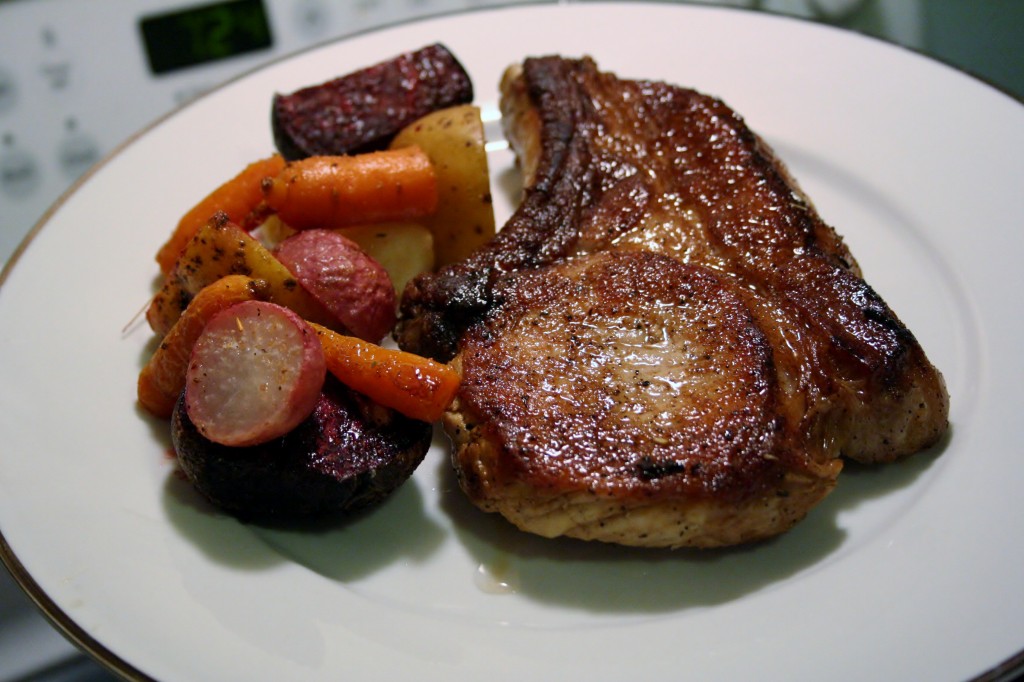 If summertime is for quick stir-fry, then autumn is for oven-roasted root vegetables. My favorite go-to meal on busy weeknights is roasted root vegetables with pan-fried pork chops.
This is an easy way to use up whatever vegetables you might have on hand or get in your CSA. Last week in my Groundswell Community Farm CSA share I received:
Kale OR Chard
Brussels' Sprouts OR Cabbage
Radishes
Leeks OR Celery
Beet Roots
Potatoes
Peppers
Tomatoes
Garlic
Onion
Broccoli OR Beans OR Greens
1 Spaghetti Squash
The brussels sprouts, radishes, beets, potatoes and broccoli are all great candidates for the "Alice Waters" treatment from The Art of Simple Food: Notes, Lessons, and Recipes from a Delicious Revolution.
According to her roasted vegetables lesson, she suggests a light coating of olive oil and salt, roast in the oven at 425F for 25-30 minutes. So I usually grab a cookie sheet, pull out the root vegetables or fall vegetables that I'd like to use, then chop them up and fill the cookie sheet for one layer. I sprinkle with salt, pepper, maybe a special seasoning blend depending on the mood, and it's delicious!
A simple accompaniment is pan-fried pork chops. Again, a simple sprinkling of your favorite blend is all they need.
In West Michigan? If you want to make sure you have a nice variety of root vegetables this winter, consider joining the Groundswell Community Farm winter CSA! Katie says, 
Sign up HERE for our popular Winter CSA.  Winter CSA gives you 7 extra weeks of veggies from November 1 & 2 until December 13 & 14.  Sign up early–unlike our summer CSA, the winter shares almost always sell out!

Holland, Tuesdays from 5 – 6pm at Baker Lofts, 217 E. 24th ST, Holland Mi 49423 .  Use the S. entrance on 24th St. between Columbia and Lincoln by the event center.
Grand Rapids – Wednesdays, 5-6pm @ Baxter Community Center, 935 Baxter St SE, Grand Rapids, MI 49506   Please park in the lot north of Baxter St, then walk across the street to the greenhouse.

Winter CSA is a festival of root crops (potatoes, carrots, beets, parsnips, celeriac, onions, garlic, leeks), cooking greens (kale and chard) and a good dose of salad fixings (spinach, lettuce, salad greens, radishes, herbs) and some other goodies like winter squash & Brussels' sprouts.