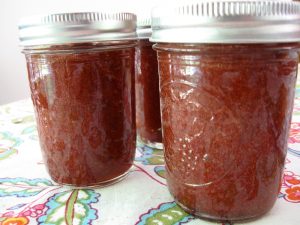 I was a bit intimidated by the prospect of making this jam, but it was in Simply In Season so I had to make it. So I recruited DH's beer rig.
You see, I have one of those glass top electric stoves, and the canner never wants to boil. So I decided to enlist DH and use one of the burners he uses for brewing beer. Sure enough, that got the  canner boiling in no time! And kept it there. In the meantime, I brought 6 cups of rhubarb (diced) and 2 cups of strawberries (lightly mashed) to a boil.
Add 3-4 C sugar, and boil uncovered 20 minutes. I stirred frequently. I then brought my pot out to the garage where the brew rig is and sterilized the jars, filled them with the rhubarb/strawberry/sugar mixture (leaving 1/2 inch headspace) and processed them in the boiling water bath for 10 minutes.
The texture? Not as firm as I'd like but still jam. The flavor? Out of this world.
This post shared at Frugal Friday