Description
How to Effortlessly Lose Weight While Lowering Your Risk of Developing Cancer, Heart Disease and Diabetes In Just
21 Days …
… Even If Everything You Have Tried in the Past to Get in Shape Has Failed
Are you practicing the simple daily habit that provides the following incredible health benefits for men and women, young and old alike?
Melts away unwanted fat

Gives your sex life a boost

Fights cancer

Reduces stress and anxiety

Lowers your risk of heart attack and stroke

Regulates a healthy blood pressure

Helps ward off chronic diseases

Makes your bone structure stronger

Improves your digestion

Helps you sleep better

Reduces your risk of developing Alzheimer's, Parkinson's disease and other neurological disorders

Can treat, and even prevent, arthritis

Lowers your chances of developing diabetes

Boosts your energy, strength and stamina
What miracle health booster delivers all of the above and other physical and mental rewards, yet is so simple that even a toddler can perform it? What are you already doing on a daily basis that you simply need to be doing more of to reach all of your fitness goals? What effortless activity can fit the busiest of lifestyles, while helping you lose weight and look and feel great?
Walking
My regular readers know that I'm a distance runner, but I always tell me clients that you do NOT have to run in order to get in shape! In fact, you burn the same amount of calories walking a mile as you do running it. Walking is a great way to improve your health. 
So, how much walking do you have to do to feel healthy, happy, fit and full of energy, and receive all of the wonderful health benefits mentioned above? Not as much as you might think.
The American Surgeon General, the American Heart Association, the World Health Organization, the Mayo Clinic and other noted health authorities agree that you only need to take 10,000 steps each day for nearly miraculous health benefits.
10,000 may seem like a big number. But it really isn't, when you consider that the average adult already takes between 3,000 and 5,000 steps per day. You do this unconsciously, walking your way to better health simply by moving through your daily routine.
So fitting in the extra steps that can positively and substantially impact your life, your health and longevity is not that difficult … You just need to have a proven plan.
Now you do. Introducing …
21-Day Walking Challenge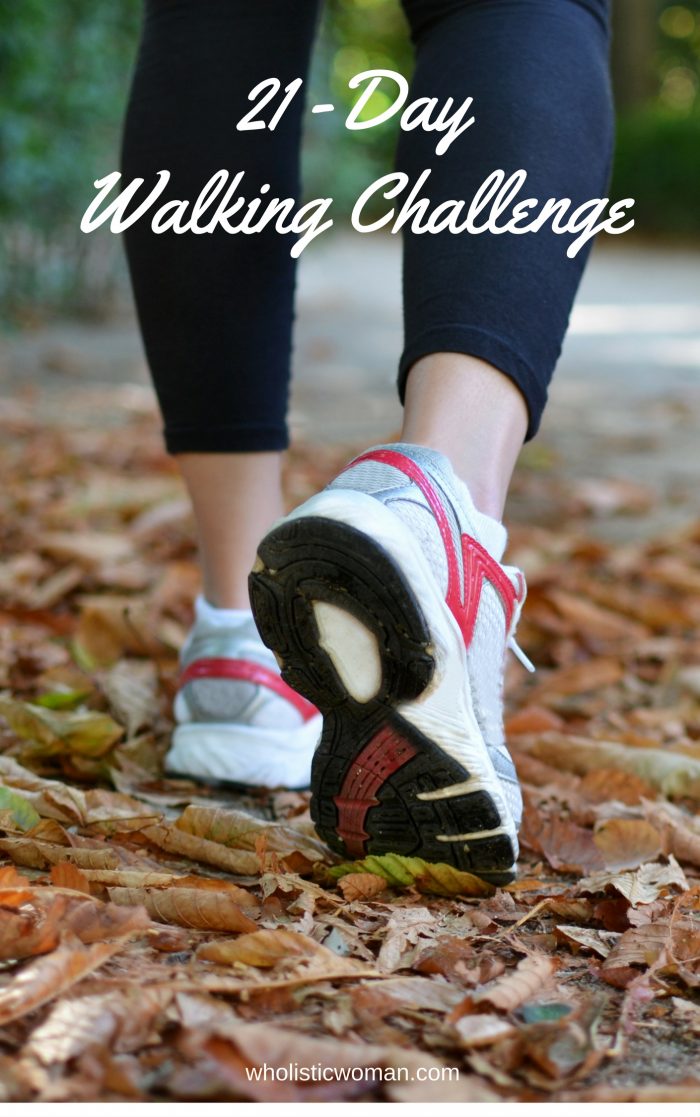 The simple 21 day program that gets you unconsciously
walking 10,000 steps each and every day,
even if you currently lead a
very sedentary lifestyle.
In this special report that works for women and men, young and old, and people of all levels of physical fitness, you will discover …
That walking just may be the "perfect" weight loss and weight management physical activity (Chapter 1)
That regularly walking can overcome genetic health problems, even if your family has a long history of health issues. (Introduction)
What to do during your first Walking Week that virtually guarantees your success in meeting your weight loss or fitness goals. (Chapter 7)
What is the best time of day to go shopping for walking shoes.

(Yes, this really does matter!)

(Chapter 2)
The smart part a heart monitor plays in your walking program. (Chapter 4)
The perfect stretching exercises that will boost your performance. (Chapter 6)
How to select the perfect walking shoe. (Chapter 2)
Why doctors recommend regular walking before and after hip or knee replacement surgery. (Chapter 1)
Two fitness trackers with built-in heart monitors you may want to consider buying. (Chapter 4)
A loss of just 10 pounds can reverse type II diabetes. Walking can help you effortlessly lose that 10 pounds, and even more. (Chapter 1)
What you absolutely must know BEFORE you buy a pedometer. (Chapter 3)
That a regular walking program helps treat, and even prevent, the number one bone problem in women. (Chapter 1)
A handy conversion table that translates steps into miles, kilometers and city blocks. (Chapter 8)
Where to wear your pedometer to get the most accurate readings. (Chapter 3)
What "Yak Trax" are, and why you definitely need them if you are going to be walking in snow. (Chapter 2)
That walking is the perfect treatment for erectile dysfunction in men. (Chapter 1)
The old myth of "no pain, no gain" concerning exercise should never apply to walking. (Chapter 5)
How to choose the perfect walking buddy. (Chapter 9)
You don't have to join an expensive and intimidating gym to enjoy the best health of your life. All you need to do is put one foot in front of the other, and take the required amount of steps. Your first smart step is joining the 21-Day Walking Challenge.
This special 40 page report that can truly change or even save your life is AVAILABLE HERE through digital download for immediate use.
BONUS
In addition to the 40-page ebook, you'll also get
21 days of daily emails to help you keep on track
printable walking log
printable infographic showing stretches to do before and after your walks
$21.00Add to cart