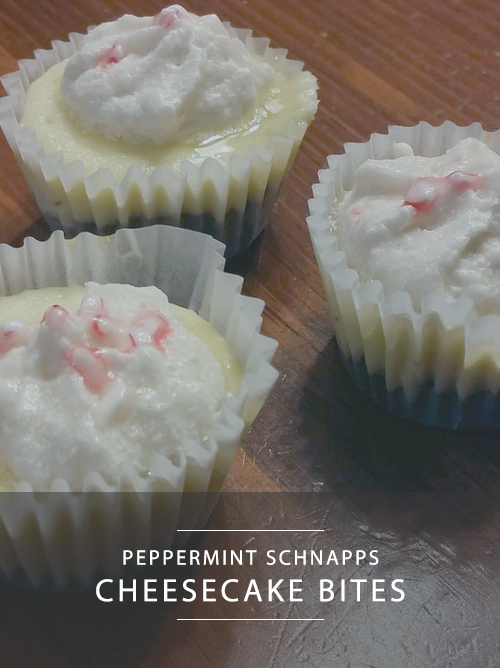 Remember the Boozy Peppermint Mocha Cupcakes I made for a New Year's Eve  party? Well I just realized that I forgot to post the OTHER recipe I made that also used up some of the Peppermint Smirnoff that I had: Cheesecake bites!
Now, I did some research trying to find the perfect recipe and came up with something close on a website, but it was for one big cheesecake and I wanted to make little cheesecakes. So after some more research I discovered that you can convert big cheesecake recipes down by adjusting the bake time. For mini muffin tin size, it took about 15-20 minutes. It took more like half an hour for the cupcake size. The best part is that you only need to chill for a few hours before serving.
The other ingredient change that I made was that I used chocolate graham crackers instead of cookies. And, because I'd had so much frosting left from the cupcakes, I topped some with frosting instead of ganache.
The Verdict: We actually liked these better than the cupcakes, and preferred the bite size with frosting instead of ganache. The crust could have used some additional butter to hold things together, and I thought about that when I was making it but didn't trust my instinct. Live and learn!