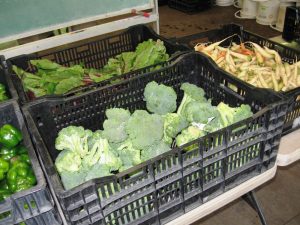 A few weeks ago, I was talking with my husband about maybe taking a sabbatical from CSAs. We were agonizing over the decision. Then, I received an email that made my decision for me.

I had a feeling it might be coming. This past summer, the owners of our CSA (Anja and Michael) looked more haggard than usual. Anja talked about wanting to open a farm to table restaurant, or to focus more on cooking. Over the past couple of years they have also been resourcing a few restaurants and grocery stores, as well as selling organic vegetable plants, attending the farmer's market, and other projects I'm sure I don't even know about. In short, they have done a TON in our area to further the local food movement and I've been proud to be a part of it as a member of their CSA.
Last week we (the shareholders) received an email informing us that they are taking a sabbatical for next year so they can restructure their operations. At first, I felt like a girlfriend being broken up with in a note. Then, I remembered the conversations that DH and I had had just a week earlier.
I, too, have been wanting to focus more on cooking; beyond the "what is this vegetable and what can I do with it?" which is hard to do when you have massive amounts of random vegetables showing up every week. For example, I haven't been able to finish Simply in Season because the ingredients I need for the summer recipes haven't shown up in sufficient quantities at the same time. Yet I don't want to go to the farmer's market and buy them because I have all these OTHER vegetables staring at me with their beady little eyes. The other reason I am not jumping to find another CSA is that this one was only 2.24 miles away from my house. Talk about local!
It's a tough decision. I'm sort of known as the CSA advocate. I'm also worried that I'll get sticker shock at the farmer's market and not eat as many vegetables if I have to actually pick out and purchase everything individually each week. Finally, I visited the Heifer International Overlook Farm last week when I was traveling with my Ugandan visitors, and I realized that by purchasing a CSA you are supporting your local farmers in a way that going to the farmer's market doesn't match. There, I became convinced that I WILL return to being a member of a CSA, but am giving myself the same sabbatical that Anja and Michael will be taking.
It's the last week of our CSA share, which is bittersweet. I look forward to spending more time planning and cooking vs. vegetable triage, but I will miss the excitement and community of pickup day. As the leaves fall and the weather turns cold, I'm reminded that for everything there is a season.
This post shared at Real Food Wednesday, Simple Lives Thursday, Monday Mania