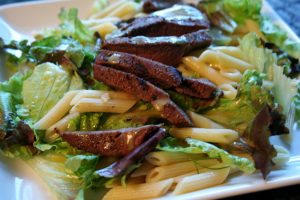 I was so excited to be chosen to come up with a recipe for Kitchen PLAY featuring Dreamfields Pasta with the theme "Entree for Two." Because, as you know, I'm always cooking for two. During the week, DH and I are busy with a ton of activities so we are often looking for a quick meal. Enter the pasta . . .
What's so great about this pasta? Well, it has 5 grams of carbohydrates, 5 grams of fiber, and a glycemic index of 13. Despite being healthier, it doesn't taste like cardboard. So it was a perfect choice for the recipe I created:
Grilled Venison with Pasta Salad and Honey Mustard
A few days ago I had a summer salad at one of my favorite lunch spots which featured pasta AND lettuce as the base. What a great idea! You can get your vegetables in but still have something that feels a bit more substantial than "just" a main dish salad. Adding lettuce also makes this dish feel a lot less heavy–perfect for summertime.
Ingredients:
two grilled venison steaks (8 oz chops work great; season with seasoning salt)
lettuce (I used a small head from our CSA, torn)
Dreamfields Pasta (I used a box of penne, but you could also use the rotini. Also, you'll only use about half the box for this recipe, but I find it easier to make a whole box and put the leftovers in the frig for later.)
1/3 C olive oil
2 Tbsp rice wine vinegar
2 Tbsp honey
2 Tbsp Dijon mustard
1 tsp minced garlic
Directions: Cook pasta according to package directions; drain and rinse with cold water (the reason for rinsing is to cool off the pasta. Don't want to wilt the lettuce!). Mix with lettuce. Top with grilled venison. Place dressing ingredients in a small jar and shake well. Drizzle over the pasta/lettuce mixture.
The Verdict: The pasta, in spite of being low carb, is really quite good. I loved the texture and addition of lettuce with it. The salty venison played well with the sweet dressing (which I adapted from Recipes from America's Small Farms). A perfect summer salad that's super quick.
Dreamfields Pasta is also sponsoring a wonderful giveaway at Kitchen PLAY. Simply recreate any one recipe from this month's Progressive Party, post about the experience on your blog and provide a link to your post on Kitchen PLAY to enter. All qualifying bloggers in each course will be entered to win $100 (6 prizes total).  The deadline is August 7, 2011. Please review the complete contest rules before entering. Good luck!