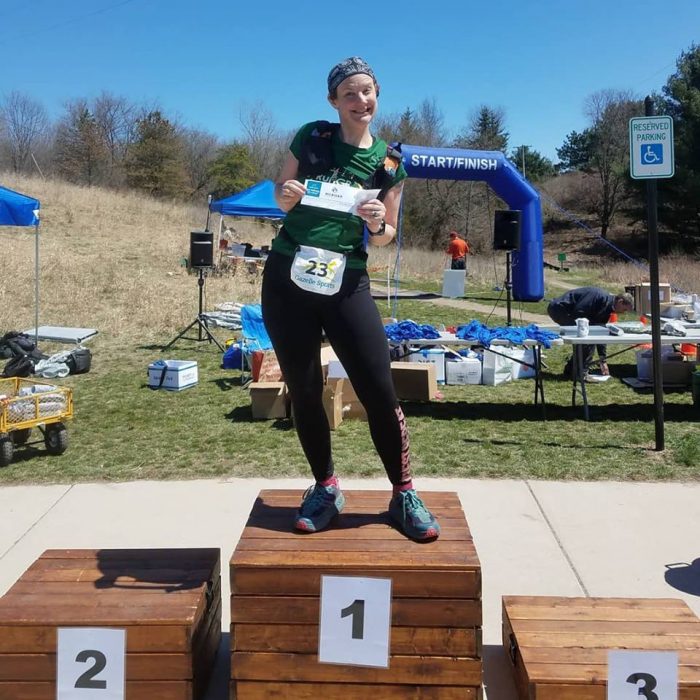 These past few weeks have been a real challenge to get my miles in. Following my Pasadena trip, I had several all day trainings. The weekend I was to do my long run there was an ice storm. I took the day off work on a Tuesday to try to get it in.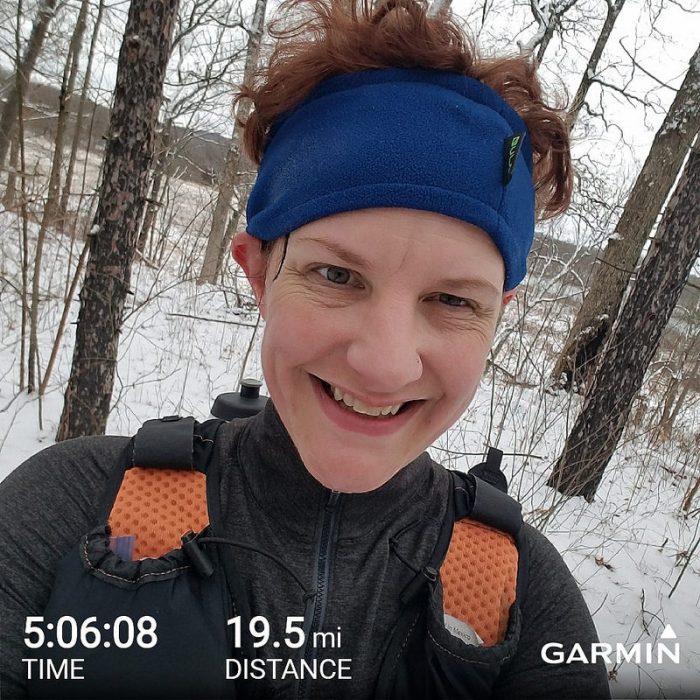 Unfortunately, I tweaked my ankle on a snow-covered rock that I didn't see so I took it easy the rest of the week and didn't get a long run in the weekend I was in Minneapolis.
So last week with the impending marathon I took an afternoon off work to preview the course. It felt really tough! I had no energy and I saw a SNAKE!
Lucky for me Saturday went MUCH better. It was a beautiful day and I felt very strong the whole marathon.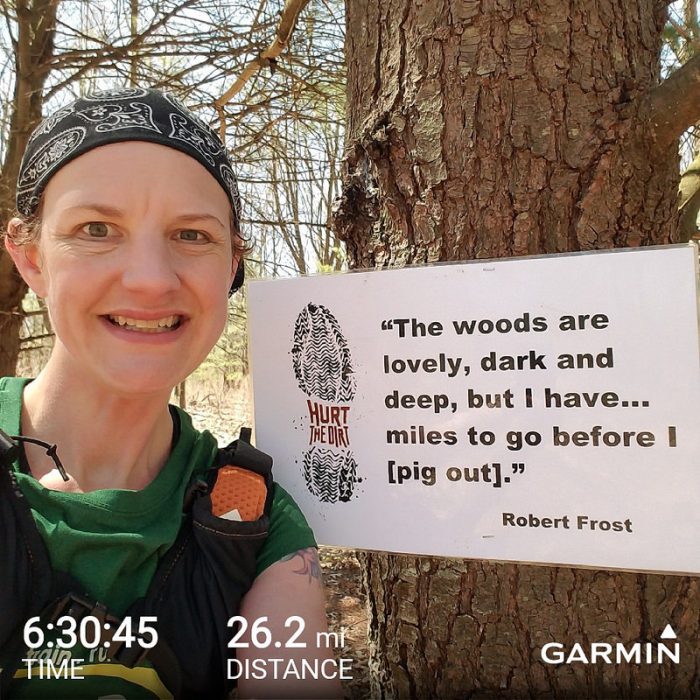 Hurt the Dirt is a trail marathon in Rockford, MI that sells out very quickly. I think because the course is beautiful. It's a four loop course, so you can fun the full, half, or quarter. It is reasonably priced (you pay for t shirt separately) and the finisher gets a steel pint glass instead of a medal (which is fine with me, I don't know what to do with medals anyway!). It is very well organized and features a delicious pig roast at the end of it.
The last loop I started to feel a bit tired, but when I got to the half mile left mark I saw my friend Bob. He said he was going to run me in so to follow him. I said, "I don't think I have it in me." He said "sure you do!" and somehow my legs followed him. I have no idea where the energy came from. we blew by a woman he said "is right there waiting to be picked off" and somehow we actually did pass her!
As I was sitting down to some pulled pork one of the race officials handed me a printout and said that I won my age group. I was amazed! (Turns out I actually got second, I had started an hour early because I was worried about making the cutoff times. Oops.) I'm still pretty proud of my performance, and even prouder that I followed my training plan and did a respectable 10 miles the very next day.
I'm starting to feel a bit more confident for the double marathon coming up on June 2. I have two more work trips coming up between now and then so let's hope I can keep up the momentum and not miss too many training runs!
For more fitness inspiration be sure to check out these running link ups: The Weekly Wrap hosted by hosted by HoHo Runs and Wendy from Taking the Long Way Home and Tuesdays on the Run with Patty, Erika, and Marcia!