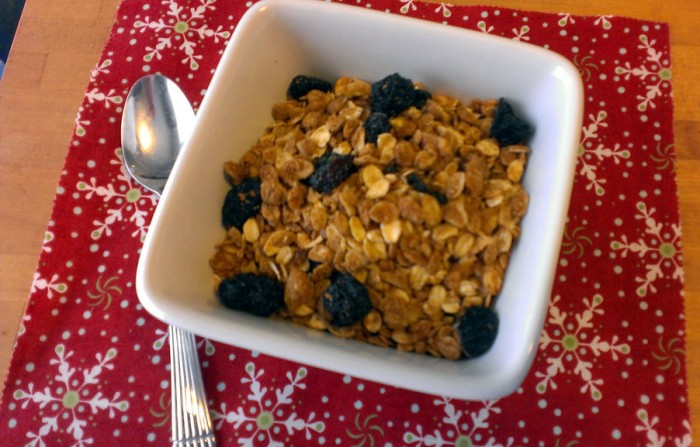 I love granola, and in the winter I love to make it myself. I love how baking the granola makes my whole house smell yummy and the oven makes it warmer! This recipe for gingerbread granola is perfect for breakfast, snacks, or even a gift.
Hodgson Mill challenged me to create a recipe using their Whole Wheat Flour. To help me in my creation, they were kind enough to send me whole wheat flour, whole wheat pastry flour, and organic white all purpose flour. They also included Whole Wheat Gingerbread Mix. When I saw the gingerbread mix, I was inspired to make gingerbread granola!
I used the ingredients on the side of the box to guide my flavor palette for creating a granola recipe based on the ratios for basic dry cereal found in the cookbook More with Less.
Ingredients:
5 cups rolled oats
1 cup whole wheat flour
1 cup walnuts, chopped
1 tsp cinnamon
1/2 tsp ginger
1/4 tsp salt
1/4 tsp cloves
1/4 cup  molasses
1/4 cup brown sugar
1 Tbsp water
1/2 cup butter, melted
1 cup raisins
Directions:
Preheat oven to 300 F.
Mix together the dry ingredients (rolled oats through salt) in a large bowl.
Mix together the molasses, brown sugar, water, and butter in a smaller bowl. Combine with the dry ingredients.
Bake on large baking sheets for 30-60 minutes, stirring often.
When the mixture is cooled, add raisins.
The Verdict:
I really loved how I could taste the flavors, but it wasn't overpowering. I worried that the gingerbread flavors were too faint, but I asked some of my co-workers to taste test and they said they could taste the molasses, brown sugar, and spices. So if you want it more flavorful, feel free to up the spices. I rather liked it on yogurt for breakfast, so it was nice having something that wasn't *too* sweet.
It would make a great gift, too!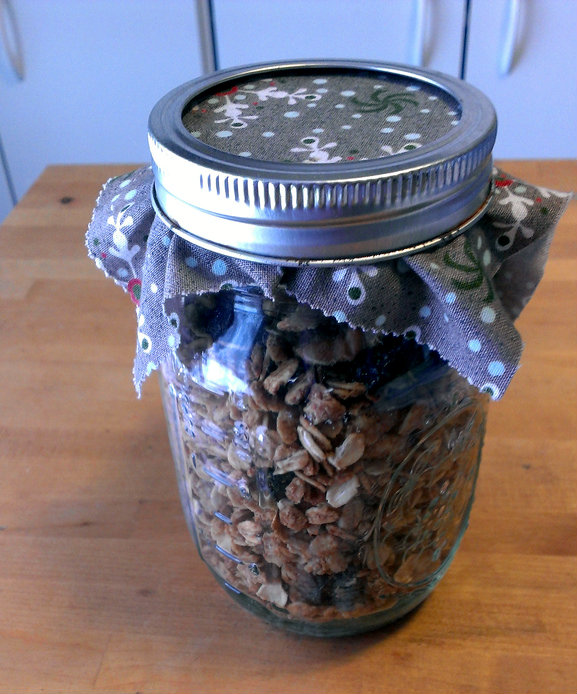 "25 Days of GRAIN Holiday" Sweepstakes

Hodgson Mills wants to help you celebrate, too! Here is a link to a $1 off coupon – good for any 5LB bag of flour or cornmeal.

Also, check out the "25 Days of GRAIN Holiday" Sweepstakes where you can enter to win a gift basket of your own.
Note: I was provided with product samples to review. All opinions are my own.