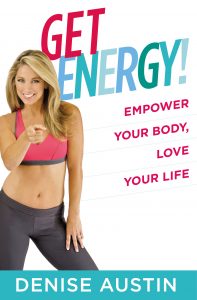 The first thing I learned from Get Energy!: Empower Your Body, Love Your Life is that Denise Austin is 50 years "young." Wow! She has been around awhile, so my expectations weren't very high for this book. I was pleasantly surprised.
I've read my share of diet books, so I was glad to see that this isn't a diet book, but focuses on how to get more energy (which, couldn't we all use?)
The book is divided into three parts. In the first part you take a quiz to find out what's zapping your energy (for me, it was that I wasn't exercising and have a demanding job). Part two includes tips for addressing the energy suckers addressed in part one. And part three includes a 14-day PEP plan, which I have bookmarked for later simply because I have way too much else on my plate right now.
Overall, I really liked it. And you can win a copy of your own!
How to Enter
To enter, simply comment below saying why YOU need more energy. Entries will be accepted until January 13, 2011, midnight EST. Limited to the U.S. and Canada. The publisher sent me a free review copy but all opinions are my own, and they are kindly sending THREE winners from my blog a copy of the book. They wanted me to tell you that Winners will be subject to the one copy per household rule, which means that if they win the same title in two or more contests, they will receive only one copy of the title (or one set in the case of grouped giveaways) in the mail. Oh, and the link at the beginning of the post is an Amazon.com affiliate link, in case you were wondering. I think that's all the fine print I have for today.
Good luck!