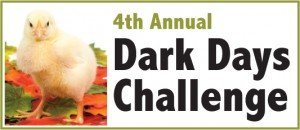 Once again I am participating in the Dark Days Challenge over at (not so) Urban Hennery. I hope to do better than last year, as I'm encouraged by the increasing number of sources that offer local produce in the winter around here.
The challenge is to cook four meals each month (1 per week) focused on SOLE (sustainable, organic, local, ethical) ingredients from Dec 1 – April 15.
This last two week period was challenging as I was traveling so much, so I was only able to try one meal; and due to a mix up in communication with DH I didn't get the brussels sprouts I had hoped to include. Nonetheless, we had a tasty, local dish.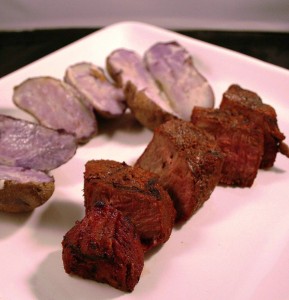 DH thawed out some venison that he had shot last month, washed the steaks and dried them. Then gave them a nice coating of the Kansas City rub. He rubbed them down like he would a rib so every bit of the steak was seasoned. Fired up the SRG (smoker/roaster/grill) with the grill grate on and set to high until it reached max temp.
Cooked the steaks 4 minutes per side for a med. finish.
To accompany the venison, we microwaved some purple potatoes that we grew last summer.
It was very tasty, although some green would have been nice!
This post also shared at Tuesday Garden Party and Hearth and Soul