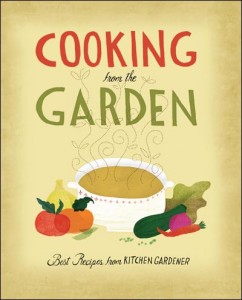 Did you know there used to be a magazine called Kitchen Gardener? I did not, until I received a review copy of Cooking from the Garden: Best Recipes from Kitchen Gardener.
From the publisher: The vegetable garden is back – thanks to renewed interest in living green, rising food prices, and a desire to eat tasty, healthful food grown close to home. Eating fresh unprocessed food has universal appeal. Farmers' markets, community gardens, and the availability of heirloom seeds and organic vegetable plants have more gardeners than ever digging up recipes for delicious, down-to-earth dishes. More than 200 recipes, culled from the pages of Taunton's Kitchen Gardener magazine, will delight growers and home cooks everywhere. The dishes included here are innovative and easy to prepare. They range from starters, sauces, and snacks to main dishes and desserts. Even seasonal recipe menus have been included for good measure! Anyone who loves fresh produce will reap ideas on how to make use of abundant yields and take advantage of seasonal buys at the market.
I think I would have liked that magazine. At least, I enjoyed reading this cookbook. You might remember that I made rhubarb conserve from this book back in May. Unfortunately, I haven't used it since.
I think I've been reviewing seasonal cookbooks too long, because the first thing I noticed about this book is that it is NOT organized by season. It's organized in the traditional manner (starters, snacks, and drinks; breakfast, brunch & egg dishes; sauces, salsas, and vinaigrettes; etc.) with a few pages of seasonal menus thrown in at the end. The index is pretty good, though, so you'll still be able to find the recipes you want easily.
There are no photos of the recipes, but they do highlight what you'll need "from the garden," (or farmer's market, whichever the case may be). There are also a lot of them – more than 200! And they are fairly basic, with lots of familiar flavors and preparations.
Disclosure: I received a complimentary review copy from the publisher; I was not obligated to review it and all opinions are mine.